Joseph Pinter is a salesman at Lawrence's newest motor scooter dealership, Subsonic Scooters, but he admits that his car still comes in handy.
For example, he recently found $1.72 in spare change in the console to pay for a week's worth of gas for his motor scooter.
Other than that, he doesn't use his 1994 Saab much.
"The only reason I get in my car is to drive out on the interstate," Pinter said. "To drive around Lawrence, I never use it. There's no reason to. With this scooter I can always find a parking spot and I never spend more than $2 a week in gas."
Pinter and Mike DeGraw, co-owners of the store at 19 W. Ninth St., are betting that other Lawrence residents will turn to the scooter as a new form of transportation.
The store, which has been open two weeks, carries four different brands of motorized scooters and one brand of mo-ped. DeGraw owned a scooter shop in the Kansas City area in the late 1970s and early 1980s and decided to get back in the business after he noticed scooter sales once again were increasing in the United States.
According to industry numbers, he said, motor scooters last year had the largest percentage sales increase, 37 percent, of any outdoor motor sport vehicles, including boats, motorcycles and Jet Skis.
"I think the new popularity is a combination of gasoline prices and the mobility that they provide you," DeGraw said.
He said scooter shops had opened in many cities with a population of 250,000 or more; he admitted the Lawrence market was smaller than most for a scooter store.
But, he said Lawrence had the right demographics. Scooters tend to appeal to students and retirees. He also said the geographical layout of Lawrence made scooters enticing.
"I think Lawrence is a perfect town for scooters," DeGraw said. "My reasoning is that there is nowhere you can't go in this town on a scooter. If you're on Mass. Street, you don't have to worry about finding a parking space. You just chain it to a bike rack."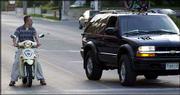 Pinter said scooters could keep up with traffic going 50 mph or less. Mo-peds, which are lighter and have thinner wheels than a scooter, have top speeds of about 35 mph.
The co-owners also said the scooters were environmentally friendly. Scooters normally get about 100 miles to the gallon, while mo-peds can top out near 130 miles per gallon.
But what about Lawrence's weather? DeGraw said scooters could be driven in this area at least 10 months out of the year, as long as the rider can endure some cold temperatures.
"When you are talking about commuting two or three miles at 40 mph, you're not going to freeze to death most days," said DeGraw, who admitted the vehicles didn't work well on snow and ice.
Price ranges vary. Scooters at Subsonic Scooters range from $1,299 to $3,695, while mo-peds sell for $995 to $1,599.
The vehicles require a regular driver's license or learner's permit but do not require the owner to carry insurance.
Most scooters can include an attachable trunk for carrying small items, like a bag of groceries.
DeGraw wouldn't specify how many scooters the shop has sold, but said business had been good. He said not everyone was buying them for utilitarian purposes. Some people think they're just fun to ride.
"I'm 58 years old and I've owned everything from a Harley Davidson to a Gold Wing, and let me tell you, this scooter is more relaxing to ride than a double martini," DeGraw said.
Copyright 2018 The Lawrence Journal-World. All rights reserved. This material may not be published, broadcast, rewritten or redistributed. We strive to uphold our values for every story published.