Kansas City, Mo — Jamie Moyer has been around too long to feel comfortable, even amid a hot streak like this.
Handed a quick four-run lead, the Seattle left-hander won his fifth start in a row Wednesday, helping the Mariners beat the slumping Kansas City Royals, 5-2.
Moyer (8-2) allowed two runs and four hits in seven innings, tying Toronto's Cory Lidle for the AL lead in wins. He befuddled the Royals with an assortment of sharp breaking pitches.
"You get comfortable, then you get complacent," said Moyer, a 15-year veteran. "I don't ever want to feel that way. Your opponent's got a bat in his hand. You never know what can happen."
Dan Wilson went 3-for-4 with three RBIs for the AL West-leading Mariners, who are 13-0 in day games and have won 10 of their last 11 in Kansas City.
"He used the inside corner today more so than usual," Wilson said. "He had a lot of strikes in there, kept them honest. Then it opened up the changeup. Those are veteran hitters, and they come up there with a plan. But Jamie was able to have control of that inside corner and that was really big for him."
Kazuhiro Sasaki worked the ninth, finishing the five-hitter for his eighth save in 12 chances.
"The way I look at pitching, you're only as good as your offense and your defense," Moyer said. "I have to rely on my defense a lot. I'm not a power pitcher. I'm not a strikeout pitcher. I try to force guys to put the ball in play and rely on my defense."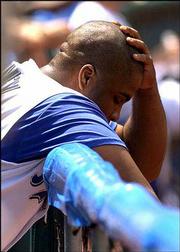 Wilson, the No. 9 hitter, hit a two-run double in the second inning and added an RBI single in the sixth, both off Jeremy Affeldt (3-3).
After winning their first 11 home games, the Royals have lost nine of their last 11 at Kauffman Stadium. They have lost 21 of 31 overall following a 16-3 start, dropping 4 1/2 games behind first-place Minnesota in the AL Central.
"Everybody is trying too hard," Royals manager Tony Pena said. "We want to score four runs in one inning, in one at-bat. We just need to go out and take one batter at a time. We're going to be OK. Right now we're going through real hard times. Sometimes you have to relax."
Bret Boone's 13th homer put the Mariners ahead 1-0 in the first inning, and Mike Cameron doubled leading off a three-run second. Jeff Cirillo hit an RBI single and combined with Randy Winn on a double steal, and Wilson slapped a breaking pitch down the right-field line, just inches fair, for a two-run double.
"The wind blew it fair," Wilson said with a grin.
Affeldt gave up five runs and eight hits in six innings.
Kansas City closed to 4-2 on Angel Berroa's RBI double in the fifth and Mike Sweeney's homer in the sixth.
Notes: Sweeney has reached base in 29 straight games. ... The Royals made six roster moves, putting 2B Carlos Febles and OF Dee Brown on the 15-day DL, designating LHP Scott Mullen for assignment and recalling from Triple-A Omaha INF Brent Abernathy, OF Aaron Guiel and LHP Rick DeHart. ... Moyer is 11-7 against Kansas City. ... The Mariners are 20-6 vs. the AL Central. They were 23-18 against their division a year ago.
Copyright 2018 The Associated Press. All rights reserved. This material may not be published, broadcast, rewritten or redistributed. We strive to uphold our values for every story published.