Joe Nemechek plans to stick around a while at Hendrick Motorsports.
And why shouldn't he?
"Believe me, this is the best opportunity I've ever had to win races. The facility, the people and the vision that (team owner) Rick Hendrick has put together is phenomenal," Nemecheck said.
"When I first went to work there, I told myself, 'How in the world did you ever compete against these guys?' "
Of Hendrick's four Winston Cup drivers, two -- Jeff Gordon and Terry Labonte -- have won series championships (Gordon four, Labonte two). Of the 11 Cup race winners this season, three are from Hendrick -- Gordon, Jimmie Johnson and Nemechek.
Not even Roush Racing's five-team operation can match that -- Matt Kenseth and Kurt Busch are its only winners this season. None of the five has won a Winston Cup championship.
Nemechek, 39, is the most recent addition to Hendrick and his arrival came under cloudy circumstances when former driver Jerry Nadeau left the team a year ago.
Many considered Nemechek simply a "fill-in" for the rest of the 2002 season, but his success late in the year -- he had two second-place finishes in the final four races -- prompted Hendrick to bring him back this season.
"When I first jumped in that No. 25 car, I thought it had taboo written all over it. We got (crew chief) Peter Sospenzo on board, and he made a lot of changes around the shop and -- boom -- all of a sudden we started running well," Nemechek said.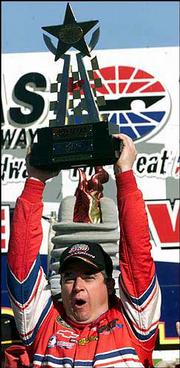 "It's people and it's also equipment. You have to have the whole package. The big key is communication, and I know everybody gets tired of hearing that, but Peter and I have been able to communicate very well."
So far, Nemechek's team has performed as well -- and sometimes better -- than Gordon and Johnson, who have seen the most recent success.
Before joining Hendrick last season, Nemechek had never had more than three top-five finishes in any of his 10 seasons. But he managed three in his 25 races with Hendrick in 2002.
Already this season he has a race win -- May 3 at Richmond, Va., and he is 11th in points, 60 points out of the Top 10. His previous best championship finish was 15th in 2000.
"We're getting more competitive on a weekly basis, getting more consistency," he said. "I think we can win a lot of races. Hopefully, I'll be here for the rest of my career."
Nemechek, who won one Cup race each with veteran owners Travis Carter and Andy Petree, said Hendrick's "team approach" had been key to his success.
"The drivers get along with each other, and it's cool, because whenever anybody wins a race, the other drivers are coming to Victory Lane," he said.
Sospenzo said he wasn't surprised with the team's success.
"We've been competitive all year, we've just had some bad luck in some of these races," he said."
"We haven't really been able to show the true potential of this race team."
"These last couple of races, we have been able to finish without any major problems. When you finish higher, you get more points. It's not that difficult to figure out," Sospenzo said.
Copyright 2018 The Lawrence Journal-World. All rights reserved. This material may not be published, broadcast, rewritten or redistributed. We strive to uphold our values for every story published.