Lawrence bar owner Rob Farha spent nearly three months remodeling the former FiFi's Restaurant building at Ninth and Iowa streets into an upscale cocktail lounge.
When he opened The Bella Lounge, 925 Iowa, two weeks ago, he made one last interior design decision -- no ashtrays.
Farha decided to make the lounge Lawrence's only smoke-free bar, and now he's waiting to see whether the no-smoking policy will be a business boon or bust.
"There were actually people coming up to me on the street asking me to make it nonsmoking," Farha said, referring to when he announced his plans for a lounge in March. "But I didn't make the decision to go nonsmoking until the day we opened.
"In fact, I've got a case of ashtrays in the back room waiting in case this doesn't work out."
Farha said there was probably a reason why none of Lawrence's other bars had adopted a no-smoking policy. He said it was widely believed in the industry that smokers were often among a bar's best customers.
"The statistics show that there are more and more nonsmokers, but the industry also says smokers are more likely to be your longest-lasting customers," Farha said. "That's what I'm fighting with. The ultimate decision-making process for us will be the sales that go through that cash register."
Farha said he had been pleased with the business the lounge had received so far.
Michelle Miller, director of Douglas County's Community Health Improvement Project, said she thought there would be strong interest in a bar that prohibits smoking. She said her group had received strong feedback from a publication it produced earlier this year that listed all the smoke-free restaurants in Douglas County.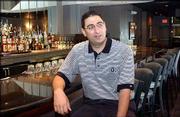 "I think they'll be pleasantly surprised in the number of people who are going to be interested in going to a place that is smoke-free," Miller said. "People who are concerned about their health should still have an option to go out for that type of entertainment."
Miller said she hoped the business became a trend-setter. She said her group had been doing research on the benefits business owners were experiencing by eliminating smoking from their establishments. Data from California, where governments are prohibiting smoking in public places, show decreases in business insurance costs, decreases in employee absenteeism and decreases in building upkeep.
Different environment
Farha said he decided to create the policy, in part, because he thought it would fit in well with the unique atmosphere he was trying to create at the lounge. The business has a dress code for its customers that includes no ball caps, no T-shirts and no torn jeans. It also plays its music, including a lot of lounge classics from Sinatra and the Rat Pack, at low levels to encourage conversation.
"The concept came from the fact that I feel every bar in Lawrence is either a college bar or a sports bar," Farha said. "I think Lawrence has grown to become a bedroom community. We have a lot of professionals who are looking for a different type of environment and I didn't think any of the bars were really catering to them right now."
Farha has owned The Wheel, one of Lawrence's oldest college bars, for six years. He hasn't started a no-smoking policy there.
Farha hasn't begun a policy at the lounge that would require patrons to be 25 years old or older to enter, which is legal because Kansas is a "right-to-serve" state. But Farha said the bar is more geared toward an older crowd.
"I don't have any problem with the college kids coming in as long as they're dressed right," Farha said. "So far we've had customers from 21 to 80 years old and it seems to work pretty well."
The lounge, which doesn't serve any food, is open from 4:30 p.m. to 2 a.m., Monday through Saturday.
Tried before
The business isn't the first bar in Lawrence to try the no-smoking policy. The owners of the West Coast Saloon, 2222 Iowa, opened Second Wind, a small smokeless bar adjacent to West Coast, in the late 1990s but shortly closed it because of a lack of business.
David Dick, an owner of West Coast, said he thought the no-smoking policy would still be a tough sale in Lawrence.
"We think it is a great idea, but it just didn't work," Dick said. "I would say that the majority of people who go out to drink beer realize there are going to be people who are smoking."
Dick said he didn't expect to see more bars go to the no-smoking policy because they would risk losing a large portion of their clientele. For instance, he said Wednesday afternoon that eight of the 13 people at his bar were smokers.
"That ought to tell you something," Dick said.
Copyright 2018 The Lawrence Journal-World. All rights reserved. This material may not be published, broadcast, rewritten or redistributed. We strive to uphold our values for every story published.