ST. PETERSBURG, RUSSIA — Priests chanted and cadets marched in tight formation on a square steeped in St. Petersburg's turbulent history Tuesday as the former imperial capital and the crucible of the Bolshevik Revolution celebrated its 300th anniversary.
Thousands of people pressed against metal barriers erected around Palace Square, which is bordered by the ornate, sprawling Winter Palace, the one-time seat of czarist power.
The spacious square is linked in Russian minds with the October Revolution of 1917, when the Bolsheviks seized power and launched more than seven decades of communist rule.
Despite the pageantry, 300 years is young for a Russian city: Moscow recently celebrated its 850th anniversary. But St. Petersburg has undergone a particularly grueling history of war, revolution and privation that gives it a special role in the public imagination.
It has also endured misery. The city is said to be built on the bones of thousands of slave laborers who raised St. Petersburg from a swamp. Two-and-a-half centuries later, when it carried the Soviet-era name Leningrad, hundreds of thousands starved to death during a nearly three-year Nazi siege.
"It's a city that has had such a special history in a short period of time," said scientist Vladimir Markov, 54, as he watched a procession of red-robed Russian Orthodox priests bearing icons from St. Isaac's Cathedral to Palace Square, where they chanted blessings for the city and took in the military parade.
Tuesday's celebrations spilled across St. Petersburg's elegant downtown area. Yakovlev and Valentina Matviyenko, President Vladimir Putin's representative in Russia's northwest region, laid flowers before the Bronze Horseman, a monument to the city's founder, Czar Peter I -- Peter the Great.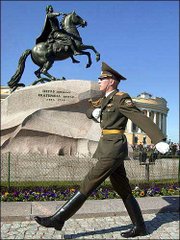 The statue inspired a classic poem by Russia's favorite poet, Alexander Pushkin, and it dominates the square from which Russia's first revolutionaries, the Decembrists, launched their failed reformist rebellion in 1825.
Peter the Great founded St. Petersburg as Russia's window on the West, but Putin -- the city's most famous living native son -- said Tuesday that it also stood as a symbol of the triumphs and troubles of the vast country that stretches eastward beyond it.
"Everything that is characteristic of the history of our entire country is reflected in the history of the city," Putin said in a televised interview.
"To be a citizen of Russia and a resident of the city is a great honor and at the same time a difficult ordeal."
City landmarks got facelifts for the 10-day celebration, which culminates this weekend with a Russia-European Union summit and a meeting between Putin and President Bush.
An ornate gate to the Winter Palace, which now houses the Hermitage art museum, was opened in a ceremony Tuesday, providing access to the building from Palace Square for the first time since the Bolshevik Revolution.
Renamed Petrograd in 1914 and Leningrad a decade later, St. Petersburg got its old name back as the Soviet Union collapsed in 1991.
"For us, Leningrad was always Petersburg," said Alexei Volkov, 39, a Russian naval officer who watched the ceremony with his wife and daughter. "We always knew that Peter I founded it and we are proud that we were born here."
Copyright 2018 The Associated Press. All rights reserved. This material may not be published, broadcast, rewritten or redistributed. We strive to uphold our values for every story published.