New York — Derek Jeter called out his teammates, then backed up his words immediately.
Jeter got the slumping Yankees off to a quick start Tuesday night, hitting a leadoff homer to send New York to an 11-3 victory over Boston, snapping a five-game skid.
"We needed it," Jeter said. "We've been playing terribly. It feels good while it lasts. The intensity level was good today. We have to carry it over until tomorrow."
After Monday's 8-4 loss -- New York's eighth straight at home -- Jeter said the team did not "show up."
Jeter then did his part to spark the Yankees' highest-scoring home game of the season, with his 10th career leadoff homer and a bunt single that led to a six-run eighth inning.
"You look for a lift from him," manager Joe Torre said. "He's a guy since I've been here that has a way of lifting a ballclub and doing some things."
Jeter had plenty of help. Andy Pettitte (5-5) ended a four-start losing streak, and Robin Ventura and Todd Zeile also homered for the Yankees, who had lost 12 of 15 overall.
Jason Giambi went 3-for-5 with two RBIs and Alfonso Soriano also drove in two runs as New York matched its run total from the previous four games.
"We haven't seen that for a while," Jeter said. "It was good to see everyone get into it. It wasn't just one or two guys. The whole lineup contributed."
Pettitte, given a rare early lead by New York's struggling offense, delivered the pitching performance Torre had been seeking.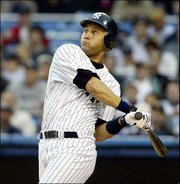 The left-hander held Nomar Garciaparra hitless in three at-bats and allowed only two runs and five hits in 72¼3 innings to snap the longest losing streak of his career.
"I felt like I won a World Series game tonight," Pettitte said. "We've been down."
Antonio Osuna came in and retired Garciaparra, ending his hitting streak at a major league-high 26 games.
"I never really cared about it to begin with," Garciaparra said. "I am more concerned that we lost the game."
Mariano Rivera pitched the ninth, ending New York's longest losing streak since a seven-game skid late in the 2000 season. He gave up a solo homer to Kevin Millar.
Jeter hit the fifth pitch of the game from Bruce Chen (0-1) into the left-field seats to give the Yankees a 1-0 lead.
Rangers 4, Devil Rays 2
St. Petersburg, Fla. -- Rafael Palmeiro hit his 503rd home run, and Mark Teixeira and Juan Gonzalez also homered for Texas. Palmeiro homered for the third time in four games, hitting his 13th of the season in the second inning off right-hander Carlos Reyes (0-1) to move within one of Hall of Famer Eddie Murray for 18th on the career list. Colby Lewis (4-3) allowed one run on four hits in five-plus innings to win for the first time since beating Oakland 2-1 on April 20.
Indians 5, Tigers 2
Detroit -- Omar Vizquel stole home with the bases loaded in the eighth inning, scoring the go-ahead run for Cleveland. With two outs, Vizquel broke for the plate and was most of the way home before lefty Steve Avery realized what was happening. Jason Bere started for Cleveland, but lasted just one inning before leaving with shoulder stiffness. Five Cleveland relievers combined for eight innings of one-run ball. Dan Miceli (1-0) picked up the win in his Indians debut, pitching a scoreless inning.
Blue Jays 5, White Sox 1
Toronto -- Roy Halladay won his sixth straight start by pitching his first complete game of the season as Toronto won its sixth in a row. Carlos Delgado went 3-for-3 with a walk and two runs scored for the Blue Jays, who tied a franchise record with their 19th win in May. Halladay (6-2) allowed seven hits, striking out seven and walking one for his first complete game since June 18, 2002. He hasn't lost since April 15.
Orioles 12, Angels 4
Baltimore -- The Orioles hit three homers off Aaron Sele and Sidney Ponson pitched an eight-hitter to lead Baltimore in a rout. Geronimo Gil, Tony Batista and Melvin Mora homered for the Orioles, who reached double figures in hits (16) for an eighth straight game. Ponson (6-3) struck out seven and walked two in Baltimore's first complete game of the season. The right-hander improved to 5-0 lifetime against the Angels after beating the defending champs for the second time in six days.
Twins 4, Athletics 3
Minneapolis -- Pinch-hitter Bobby Kielty's three-run homer in the eighth rallied Minnesota over Oakland. Barry Zito (6-4) breezed through the first seven innings, holding the Twins to one hit and striking out 10. Minnesota hit only one ball out of the infield in that span -- Corey Koskie's solo homer in the fourth. J.C. Romero (1-0) got two outs for the win. Eddie Guardado pitched a perfect ninth for his 14th save in as many opportunities.
Copyright 2018 The Associated Press. All rights reserved. This material may not be published, broadcast, rewritten or redistributed. We strive to uphold our values for every story published.