Albany, N.Y. — They dance for hours.
Boys pinball around the crowd while girls sway in donated gowns. Many slow dance and side step under the mirror ball. Others are wheeled to the edge of the dance floor and move their hands to the music.
"We're staying all night!" says Mark Nikolaus, bopping with his classmates on the dance floor. "All night, we're dancing!"
This is prom night. But this is no ordinary prom.
About 170 people came to this year's Board of Cooperative Educational Services spring prom, an annual dance attended by Albany-area high school students who receive the agency's special education services. It's a diverse group -- some are developmentally disabled, others are deaf or hard of hearing. For 22 years, Samaritans have provided a prom just for them.
"For some of them, it's just an opportunity to be somebody different for the evening, you know?" said Lin Polster, BOCES transition coordinator. "It's the one area of their life where their disability is forgotten."
The proms started in 1981, spurred by students who lamented they didn't have a prom to go to like their brothers and sisters.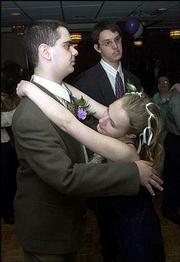 "Our children had nowhere to go," said Sylvia Georg, the former principal of BOCES's Maywood School.
Teachers and administrators staged a small dance in the school gym, handling the details and decorations themselves. The prom grew over the years as more students were invited and graduates kept coming back. Michelle Rosenberger, one of the students who inspired the prom, came to the Albany hotel with her mother, a common practice at this prom. Others are chaperoned by group home workers or friends. While there are some couples in the crowd, many just hang out with their friends.
For a $20 ticket, prom goers last weekend received a sit-down dinner, a picture in front of a starry backdrop and a chance to dance until 11 p.m.
A disc jockey pumped out crowd-pleasing favorites by the Baha Men and Shania Twain, inspiring a happy anarchy of dance styles. One guy in tails spun and did James Brown-like drops alongside couples sticking to ballroom dancing. Hilary Paige, 16, danced with the same boy most the night. Nikolaus, 17, clustered much of the time around his classmates at Guilderland High School. He danced so vigorously his boutonniere flew off.
Many of these teens could go to the prom at their high schools. But as Guilderland teacher Anne Gabriel notes, the teens may sit on the sidelines at those dances. "Here," she said, "they're the stars."
Copyright 2018 The Associated Press. All rights reserved. This material may not be published, broadcast, rewritten or redistributed. We strive to uphold our values for every story published.