Boston — The Boston Red Sox are doing all they can to ditch their reputation as comeback kids.
David Ortiz homered to cap a five-run first and lead Boston to a 12-3 victory over the Indians Saturday, a day after scoring six runs in the first inning to beat Cleveland.
"It makes it a lot easier for a pitching staff," said John Burkett (3-2) who cruised through five innings while allowing two runs on two hits. "I'll take 12 runs every game. I'm pretty good over my career with 12 runs."
Nomar Garciaparra homered to extend his hitting streak to 24 games and was one of three Boston batters -- along with Ortiz and Manny Ramirez -- with three hits and a homer. Bill Mueller singled and scored three times.
The Red Sox have 13 come-from-behind wins this season, eight of them in their last at-bat. But lately, they have been jumping on opponents early and often; on Friday night, Boston took a 6-0 lead in the first and coasted to a 9-2 win.
"It certainly is more relaxing than the other way we were doing it," manager Grady Little said. "We'll take them any way we can get them."
Brian Anderson (2-5) took the loss despite two Cleveland errors that accounted for all five first-inning runs. He is winless in his last seven starts, allowing eight runs Saturday -- just three earned -- on eight hits in five innings.
"We didn't help him out," Indians manager Eric Wedge said. "We were out of that inning with no runs. We can't come out and start games like that. It's not acceptable."
With one out in the first, Mueller singled and Garciaparra reached when his grounder went through third baseman John McDonald's legs. Ramirez was intentionally walked, then right fielder Shane Spencer dropped Kevin Millar's sacrifice fly to make it 2-0.
Ortiz followed with a three-run homer.
Josh Bard hit a sacrifice fly and McDonald doubled in the second to cut the Boston lead to 5-2.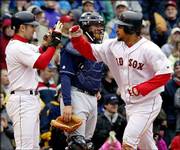 Garciaparra homered to lead off the third, then Boston made it 8-2 when Mueller and Ramirez singled and scored on Millar's double.
Matt Lawton homered to lead off the sixth for Cleveland to make it 8-3. But Boston got two in the seventh on Ramirez's homer, then added two in the eighth.
Boston third baseman Shea Hillenbrand picked up a throwing error in the sixth after a ground ball pulled him to the foul side of the bag. When he saw he'd been charged with an error, he threw his glove in the air, put his hands up and made a signal to indicate he thought the official scorer, retired Boston Herald writer Joe Giuliotti, was crazy.
Blue Jays 5, Yankees 2
New York -- Carlos Delgado and Tom Wilson each hit a pair of RBI doubles to help Toronto send New York to its sixth straight home loss. New York has dropped 10 of 11 at Yankee Stadium for just the second time in franchise history and lost 10 of 13 overall to fall 11¼2 games behind Boston in the AL East.
Cory Lidle won his seventh straight decision to become the majors' first eight-game winner, and Frank Catalanotto hit two of Toronto's seven doubles and scored twice.
The Blue Jays are 7-2 on their 10-game road trip and with a win today can sweep the Yankees for the first time ever in a four-game series.
David Wells (6-2) was battered around for five runs and nine hits in five-plus innings, leaving after allowing the first five batters to reach in the sixth.
Twins 7, Mariners 2
Seattle -- Kyle Lohse pitched a six-hitter for his second complete game of the season, and Minnesota had a three-run homer from A.J. Pierzynski to beat Seattle. Lohse (4-3), a 13-game winner last season, threw the Twins' fourth complete game of 2003 and the third of his career. He struck out seven and walked one. In five starts in May, he is 2-0 with a 1.67 ERA.
Pierzynski and Chris Gomez each had three hits, while Corey Koskie also homered for the Twins.
Seattle's Joel Pineiro (4-4) left trailing 6-2 after five innings. He allowed 12 hits and walked two, with three strikeouts.
Orioles 10, Rangers 3
Arlington, Texas -- Melvin Mora hit a go-ahead three-run homer and had five RBIs as Baltimore won, snapping the Rangers' seven-game winning streak. Texas led 3-1 after six innings, but Mora hit a three-run homer off starter John Thomson in the seventh to give Baltimore a 4-3 lead. The Orioles added six runs in the eighth to break it open.
Omar Daal (3-5) allowed three runs and eight hits in six innings to earn his first victory since May 1. He struck out a season-high eight.
Alex Rodriguez hit his 14th homer for the Rangers.
Tigers 1, White Sox 0
Chicago -- Gary Knotts outpitched Esteban Loaiza as Detroit shut down Chicago for its third straight win. Knotts pitched 72¼3 scoreless innings and Franklyn German completed the combined three-hitter. The Tigers have held the White Sox to a total of seven hits in two days.
Brandon Inge tripled to lead off the third and scored on Omar Infante's sacrifice fly for the only run. The White Sox lost for the sixth time in eight games.
Knotts (2-3) retired 18 of the first 21 batters he faced. He allowed two hits, struck out a career-high six and walked two.
Knotts began the seventh inning by hitting Carlos Lee in the left side of his helmet, forcing the White Sox outfielder to leave the game because of a headache.
Angels 7, Devil Rays 2
Anaheim, Calif. -- Troy Glaus went 4-for-5 with a homer and four RBIs as Anaheim beat Tampa Bay. Glaus hit a solo home run in the seventh inning and a three-run double in the eighth. John Lackey (3-4) won for the second time in eight starts, allowing two runs and four hits in seven innings.
Lackey walked none, but hit two batters in the third, including Aubrey Huff to load the bases. Travis Lee took a called third strike to end the inning.
Copyright 2018 The Associated Press. All rights reserved. This material may not be published, broadcast, rewritten or redistributed. We strive to uphold our values for every story published.