Fort Worth, Texas — Contrary to what too many men still think, there will be a woman playing on the PGA Tour some day.
It won't be Annika Sorenstam.
"I've got to go back to my tour," she said, "where I belong."
One of the more interesting Rohrshach tests sports has devised ended when the best female player of her era -- and first in 58 years to even try -- failed to make the cut at the Colonial.
Sorenstam walked off the 18th green to raucous cheers, with tears welling in her eyes.
"I'm glad I did it, but this is way over my head," she said. "I wasn't as tough as I thought I was."
Not so fast.
The same golfer who played Thursday like a woman of steel melted, finally, in the crucible of competition Friday. And so everybody -- Sorenstam included -- will see in the inkblot of this tournament only what they want to see.
Her supporters will remember the resolute woman of round one, the golfer who moved her ball from point to point with skill and foresight, who finessed her way around a tough golf course that her male counterparts overpowered.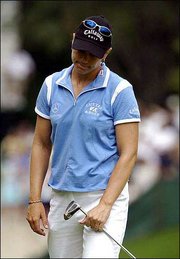 Her critics will remember the overmatched woman of round two, the golfer who struggled to keep her approach shots on line, whose short game was done in by frayed nerves rather than a lack of power.
In a sense, both sides are right.
Sorenstam wasn't in a single bunker Thursday. On Friday, she wound up in the sand on two of the first three holes.
On Thursday, she missed one fairway; on Friday, it was three.
On Thursday, she missed only four greens and still landed close enough to use her putter each time; on Friday, she missed eight times and had to chip back onto the green six times.
With the incredible scrutiny she was under and the margin for error in golf being what it is, Sorenstam's 71 on Thursday was hailed as one of the most successful rounds ever.
And yet, though Friday's pressure was just as considerable and her score was only three strokes worse, some will argue her failure to make the cut proves women will never be good enough for the PGA.
To make the argument more confusing still, Sorenstam gave both sides some fuel.
"Length wasn't the problem, it was everything around it," she said.
By "it," Sorenstam meant the crowds and the media, with more people lining every fairway than she might see walking all 18 holes at many LPGA Tour events.
"It" also meant carrying the hopes and aspirations of women everywhere.
"I'm emotionally drained because I gave it everything I had," she said.
At her best, Sorenstam was just good enough to reach the middle of the pack on the PGA Tour. Trying to hang on at anything less than her best wore her down.
Any woman who plans to play against the men as more than a one-shot deal will need a little more length off the tee and from the fairway, a better short game, and most importantly, more experience dealing with the pressures that come with the PGA Tour.
The woman who can do that may already be in training. Thirteen-year-old Michelle Wie has the distance and will play on golf's minor-league tours in the fall.
But Sorenstam helped women's golf take a giant step forward here. She flashed nerves of steel and a competitive heart when it counted most and proved a woman can compete against the men, if only for one day.
Now she's ready to step aside and let someone else try to stretch that limit to two days and beyond. There is no shame in that.
"If a lady is good enough to get an invite or she qualifies, she has every right to come here," Sorenstam said. "This is, I would think, the tour for the best players in the world. In my case, it's not something I want to keep pushing and pushing. I know where I want to play. But this has been such an experience in so many ways that I'm thankful I'm here."
Copyright 2018 The Associated Press. All rights reserved. This material may not be published, broadcast, rewritten or redistributed. We strive to uphold our values for every story published.