Keshia Davis was a troublemaker when she enrolled at Bishop Seabury Academy in seventh grade.
She was running with a tough crowd in Lawrence public schools, she said, when her mother placed her at the private Episcopal school in 1997.
Now, after six years in the Bishop Seabury junior high and high school, Davis will be valedictorian of the Class of 2003. She will attend Smith College in Northampton, Mass.
"If I wasn't at Bishop Seabury, I know I wouldn't be going to Smith," Davis said. "I'm not even sure I'd be going to college."
Davis is among five students who entered Bishop Seabury as seventh-graders and stayed through graduation. Seventeen peers did not.
Aaron Landis, Kris Finger, Sean Hill, Janie Schneider and Davis said they benefited from completing their education at Bishop Seabury. They said they survived a rigorous curriculum and participated in an array of sports, music and drama activities they might not have tried had they attended a larger school.
Headmaster Chris Carter called the five "founding" students of the school.
"They have helped create the student culture and the institutional memory because they've been here from the beginning," he said. "They know where the school began, and they know the vision for the future."
Bishop Seabury will be moved this summer from the former Kaw Valley School building east of Lawrence to a new campus at the former Alvamar Tennis & Swim Club, 4120 Clinton Parkway.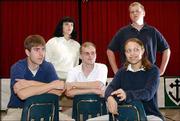 The school's first graduate finished in 2002, but that student didn't start there in seventh grade.
There are 11 members of the Class of 2003. All plan to attend college, with four going to Kansas University and one to Baker University.
Davis said her commencement speech Friday at Plymouth Congregational Church would focus on the importance of equilibrium.
"Balance what others want for you and what you want for yourself," she said.
She'll talk about the consequences of surrendering to pressure to push too hard in school.
For Bishop Seabury students, these forces flow from the faculty, from peers in class and from home. Six years of tuition and fees at the school cost about $40,000.
"There were always high expectations," said Schneider, who plans to study business at University of Arizona. "They expect more of us in the classroom."
When these five seniors started at Bishop Seabury, they were handed college-level textbooks. It was part necessity and part choice. Those were the only books available at the fledgling school.
Landis, who is bound for Kansas University, said his parents urged him to attend Bishop Seabury instead of public schools in Oskaloosa so he would be better prepared for college.
"My parents wanted something different," he said. "It worked. I'm ready for the next step."
Davis said a teacher-to-student ratio of about 12-to-1 was beneficial. It promotes strong bonds between students and faculty, she said.
"You can't just disappear in the background," Davis said.
Bishop Seabury, named for the first bishop of the Episcopal Church in the United States, also offers religious instruction for its students.
The school's 105 students will gather for a going-away ceremony at noon today at the Kaw Valley building. They'll recap some of Bishop Seabury's history and formally deconsecrate the school building from religious to secular use.
"We'll take down the bell we ring every morning and lock the doors," Carter said. "Some students will never be there again."
Graduation events for Bishop Seabury Academy:¢ Noon today, informal closing-out ceremony at the school's current site, the former Kaw Valley School east of Lawrence.¢ 5:30 p.m. today, baccalaureate service at Trinity Episcopal Church, 1011 Vt.¢ 9 a.m. Friday, graduation and stepping-up ceremonies, Plymouth Congregational Church, 925 Vt.
Copyright 2018 The Lawrence Journal-World. All rights reserved. This material may not be published, broadcast, rewritten or redistributed. We strive to uphold our values for every story published.