NEW DELHI, India — Climbing the world's tallest mountain is much more dangerous for Sherpas than for their customers and their contributions have not been properly recognized, the son of one of Mount Everest's pioneers said Tuesday.
"The Sherpas are the unsung heroes of the mountain," Jamling Norgay said in an interview in New Delhi during celebrations ahead of the 50th anniversary of the conquest of the 29,035-foot peak.
Norgay's father, Tenzing Norgay, reached Everest's summit for the first time with Sir Edmund Hillary of New Zealand on May 29, 1953. Tenzing Norgay died in 1986. Hillary is taking part in commemorations in India, Nepal and Britain, which sponsored the 1953 expedition.
To mark the anniversary, nearly 100 climbers set out Tuesday night from base camp in Nepal in an attempt to reach Everest's summit. Officials of the Indian army, which sent up a climbing team, said it could be the last clear night of the spring climbing season, which ends May 31.
In New Delhi, Jamling Norgay, who reached Everest's summit in 1996 and now runs a mountaineering firm, said Sherpas risk their lives "a lot more than anyone else."
Sherpas must put up the ropes, carry supplies to camps high on the mountain and tote oxygen bottles for climbers who now pay up to $65,000 each for a chance at reaching the top of Everest.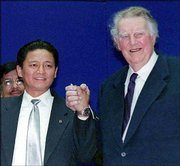 Customers will climb the 26,000-foot South Col only once -- but Sherpas make the trek an average of eight times per expedition, carrying supplies and fixing ropes and ladders.
When books are written by Everest adventurers, Norgay said, "sometimes they just say, 'There were five Sherpas.' It would be nice, with respect, to write their names and where they are from."
He noted there are few other job opportunities for Nepal's Sherpas.
"If they don't climb, they have to go back to farming potatoes," he said.
Apa Sherpa, who has the record for Everest climbs -- 12 -- is making his 13th attempt this month, but not for another record. "It's his work," said Norgay. Sherpas also hold the records for fastest climb, most time on the summit without oxygen, and youngest climber.
Copyright 2018 The Associated Press. All rights reserved. This material may not be published, broadcast, rewritten or redistributed. We strive to uphold our values for every story published.