Milwaukee — After striking out three times, John Vander Wal was just trying to put the ball in play with the score tied in the ninth inning.
He did more than that, hitting a two-out homer that gave the Milwaukee Brewers an 8-7 victory Tuesday over San Diego, sending the Padres to their season-high seventh consecutive loss.
"If you try to hit the ball out of the ballpark, you aren't going to do it," Vander Wal said. "I was unhappy with the three strikeouts, but I'm happy I came through in the end."
Vander Wal drove a 3-1 changeup from Matt Herges (1-1) over the right-center fence with two outs in the ninth for his 400th career RBI and sixth homer of the year.
"It was up," Herges said. "Hindsight, I probably should have thrown a fastball.
"We gave them a million changeups throughout the night."
Wes Helms added a three-run homer for Milwaukee.
The Padres, who have dropped 15 of 17, tied it on Sean Burroughs' two-out RBI triple in the ninth off closer Mike DeJean (2-3). Burroughs hit a liner to left, Geoff Jenkins missed on a diving attempt and the ball rolled all the way to the wall.
"He was just doing everything he could do to win the game right there," Milwaukee manager Ned Yost said. "He gave his full-out effort. It was hard to fault his effort."
Ramon Vazquez reached on a one-out error by second baseman Eric Young and scored an unearned run on Burroughs' triple. It was DeJean's third blown save in 11 chances. He retired Dave Hansen to get out of the inning.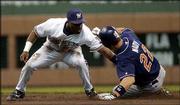 The Brewers have won four of five after beginning their 13-game homestand with four consecutive losses to the Chicago Cubs.
"It just seems like you can battle and battle and things don't go your way," Yost said. "Now, things are starting to go our way."
Young's RBI single with two outs in the eighth gave Milwaukee a 7-6 lead.
Expos 6, Marlins 4
Montreal -- Brian Schneider homered, and Orlando Cabrera hit a two-run double to key a four-run fourth inning, leading Montreal.
Javier Vazquez (4-2) won for the first time in five starts since April 24, allowing two runs and six hits in seven innings. Rocky Biddle pitched the ninth for his 13th save, and Montreal won for the sixth time in eight games.
Phillies 11, Mets 7
New York -- Pat Burrell hit a solo homer in the sixth off Jae Seo and a tying three-run shot off David Weathers in a seven-run seventh, helping Philadelphia overcome a 4-0 deficit. The Phillies have won four of five.
Brett Myers (4-3) won despite allowing four runs, four hits and three walks in six innings.
Reds 9, Braves 8
Cincinnati -- Ken Griffey Jr. homered for the first time since returning from a dislocated shoulder, and Jason LaRue hit a tiebreaking two-run shot.
The Reds blew a 7-2 lead before LaRue connected in the eighth off Roberto Hernandez (3-1) for yet another late win.
Astros 3, Cardinals 2
Houston -- Wade Miller (2-5), whose only win in nine previous starts this season was May 5, hit a two-run double and allowed three hits over seven innings. Garrett Stephenson (3-3) gave up three runs, six hits and four walks in six innings.
Giants 6, Diamondbacks 5
Phoenix -- Barry Bonds homered, and Kirk Rueter (5-1) threw seven scoreless innings before getting into big trouble in the eighth, and San Francisco held off Arizona.
Dodgers 3, Rockies 1
Los Angeles -- Kevin Brown (5-1) allowed three hits in seven innings, and Adrian Beltre's tiebreaking two-run single in the seventh led Los Angeles.
Copyright 2018 The Associated Press. All rights reserved. This material may not be published, broadcast, rewritten or redistributed. We strive to uphold our values for every story published.