Wedding planning frustrations led to a new career for one Lawrence resident.
Steve Meseraull decided to come out of retirement while helping plan the wedding of his daughter Patty about five months ago.
Meseraull said he became frustrated by what he thought was a small number of available and affordable reception halls available for a wedding reception in Lawrence.
"We just kept finding that if you do it at this place you have to use their food, or if you do it at this place you have to do this or that," Meseraull said. "It became pretty hard to arrange."
That's when Meseraull, who ran Meseraull Printing at 31st and Louisiana streets for 41 years, decided to open a reception hall business. Earlier this month, he officially opened Steve's Place in a 4,300-square-foot building at the former site of Meseraull Printing.
"I wasn't looking to get back into business, but I did miss dealing with customers," Meseraull said.
The new business hopes to cater to wedding receptions, birthday parties and other special-occasion events. Meseraull cleaned up the ink and grime the building had accumulated as a print shop, put down a new floor, finished the walls and added a small kitchen area. The building can accommodate 280 people, Meseraull said.
"The way I'm hearing it, and I may be completely wrong, is that there is more demand than there are facilities, or at least facilities that people feel like they can afford," Meseraull said. "I'm trying to fill a gap that I hear is out there."
Specifically, Meseraull said he's trying to provide a reception hall that people can rent for a few hundred dollars a night instead of a thousand dollars or more, which is a common rate at area hotels, country clubs and other meeting places.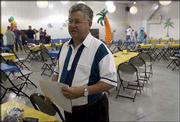 Meseraull will charge $450 for a Friday or a Sunday, $550 for a Saturday event, and $350 for an event during the week. He also has cheaper weekday rates for events that begin after 5 p.m.
Meseraull also will allow people to bring in their own caterers, disc jockeys and photographers. The business also will allow groups to bring in alcohol, as long as there are no sales of alcohol on the premises and the groups agree to drink responsibly.
"We're going to allow alcohol, but I don't want it to become a place to hold a drunken brawl," Meseraull said.
He thinks the building's location at 31st and Louisiana streets will be a drawing card for some events. Technically, it is still in the unincorporated part of the county but is right on the edge of the Lawrence city limits.
"It's close by to everything, but you can still kind of feel like you are having a country wedding," Meseraull said. "You have a farm field to the south and you have the wetlands to the east."
Meseraull knows he'll have one satisfied customer -- or at least he hopes. He is using the facility for his daughter's wedding reception in June.
Copyright 2018 The Lawrence Journal-World. All rights reserved. This material may not be published, broadcast, rewritten or redistributed. We strive to uphold our values for every story published.