Boston — Pedro Martinez wasn't around to help the Boston Red Sox. Jose Contreras was.
Martinez missed his start because of a mild strain below his right shoulder blade, but Boston beat the New York Yankees, 10-7, with a five-run rally against Contreras in his return to the majors Tuesday night.
"We've done a good job of coming back all year," Boston manager Grady Little said. "It's not a personal vendetta against anybody."
The Yankees beat the Red Sox in the offseason pursuit of Contreras, a free agent from Cuba who signed a $32 million, four-year deal with New York.
Boston wanted him to bolster their rotation, but lefty Bruce Chen did a decent job when he found out a few hours before the game that he would fill in for Martinez.
"It was very exciting," said Chen, who didn't feel pressure stepping in for one of baseball's best pitchers. "I didn't think about it that way. I knew that today was Pedro's start. I knew that today was a day for me to pick it up for the team."
Boston moved back into a first-place tie in the AL East with New York, which won Monday's series opener. In tonight's series finale, Yankees ace and former Red Sox standout Roger Clemens goes for his 299th career win.
Yankees manager Joe Torre thought his team welcomed the absence of Martinez, who underwent an MRI exam and was listed as day-to-day.
"You get in a little better mood," Torre said. "But everything is not based on what they do, but what we do."
Chen allowed three runs in four innings before former Yankee Ramiro Mendoza gave up three in two innings as New York took a 6-4 lead in the sixth.
Contreras (1-1) came in after Jeremy Giambi's RBI single off Jeff Weaver made it 6-5 and got a double play and a strikeout to end the sixth. Then Contreras allowed three walks, two hits and a sacrifice fly before leaving with one out in the seventh.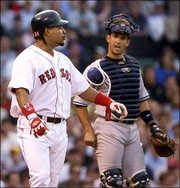 "I'm going to focus on the positive" in the sixth, Contreras said through an interpreter. "I felt a lot more comfortable after having the results I had previously that everyone's aware of."
Indians 6, Tigers 4
Cleveland -- Rookie Brandon Phillips hit a three-run homer with one out in the ninth inning, rallying the Indians.
Phillips' line shot off Matt Roney (0-1) gave the Indians their most dramatic win this season.
Rookie Josh Bard homered for the Indians, and David Riske (1-0) pitched an inning for the win.
Rangers 5, Devil Rays 2
Arlington, Texas -- Alex Rodriguez hit a two-run homer, and Joaquin Benoit pitched seven strong innings, helping Texas extend its winning streak to a season-high four games.
Benoit (2-1) allowed two runs and four hits, struck out a career-high eight and walked two. Ugueth Urbina got three straight outs for his 13th save in 14 chances. The Rangers broke the game open against rookie Dewon Brazelton (0-3) with four runs in the second inning.
White Sox 4, Blue Jays 1
Chicago -- Bartolo Colon cooled off Toronto's bats, and Chicago ended a four-game losing streak by beating the Blue Jays. Colon (5-3) won his third straight start, allowing nine hits and getting a great catch from left fielder Carlos Lee to shut off a potential rally in the fifth. Colon pitched his third complete game of the season and 22th of his career, striking out six and walking two.
Athletics 4, Twins 1
Oakland, Calif. -- Tim Hudson (4-1) allowed five hits in eight innings, helping Oakland beat Minnesota in a testy rematch of last October's playoffs. Benches cleared twice during the game. The teams rushed the field in the fifth inning after Rick Reed hit Ramon Hernandez with a pitch, and the benches cleared again in the sixth when Hudson hit Bobby Kielty.
Angels 7, Orioles 6
Anaheim, Calif. -- Troy Glaus homered twice, and Scott Spiezio tripled and scored the winning run on shortstop Deivi Cruz's throwing error in the ninth as Anaheim rallied. It was the third blown save in 13 chances for Jorge Julio (0-3). Scott Schoeneweis (1-0) pitched a perfect ninth inning.
Copyright 2018 The Associated Press. All rights reserved. This material may not be published, broadcast, rewritten or redistributed. We strive to uphold our values for every story published.