Sue Ann Place thought she'd heard the last of John William.
Now, nearly 15 years after William was convicted of murdering and dismembering Place's 9-year-old son, Richard Settlemyre, William is up for parole.
"I don't think that (man) should ever get out," said Place, who lives in Cadet, Mo.
It's a sentiment shared by police officers who investigated what they called the most gruesome case they've faced.
"I can't imagine anybody who was capable of doing something like that making a big turnaround and changing that much," said Mike McCaffrey, a retired Lawrence Police detective.
"It was as brutal as anything Lawrence has ever experienced," Lt. Kevin Harmon said.
Place still remembers the threat she said William made to her.
One of her sons told Place that William had tried to molest him while on a camp out, she recalled. At the time, William was a family friend and had gone on several fishing and camping outings with the Settlemyre family.
No more. Place, who at the time was married to Robert Settlemyre, stopped her children from spending time around William. The family outings with the transient, whose home was a camp in a wooded area of North Lawrence, also stopped.
"He got mad," Place said during a recent interview. "He said I would pay for that."
Maybe it was a mother's instinct. But for whatever reason, Place got an uneasy feeling in July 1988 while in St. Louis. She hurried home to learn that Richard Settlemyre was missing. Place's husband had allowed the boy to go fishing with William.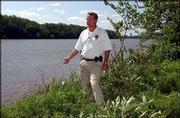 On July 14, Place contacted Lawrence police. A search ensued, and William was picked up for questioning. McCaffrey recalled that he and Detective David Davis drove William around as the suspect showed them where he and the boy had gone the day of the fishing outing. But William denied killing the boy, McCaffrey said.
Later William, who was then 28, was taken to Lawrence Memorial Hospital so his body could be checked for evidence. Harmon, then a patrol sergeant, was sent to the hospital to provide additional security during the process. Harmon managed to develop a rapport with William, and the suspect confessed to Richard Settlemyre's murder.
The search
Police and firefighters began searching the Kansas River for Richard Settlemyre's body.
What they found shocked them -- and outraged the community.
The boy's torso was found in the river, against a steep bank, McCaffrey said. He remembered looking down from the bank and seeing stab wounds in the torso.
Searchers found a place along the bank where the ground appeared to have been disturbed, McCaffrey said. It was getting dark, so the area was marked and police returned the next morning and began digging, McCaffrey said. They uncovered the boy's hands, feet and head.
"This one really bothered me more than the other cases, probably because I had a boy who was about the same age," said McCaffrey, who now works as a security guard at Kansas University's Spencer Museum of Art. "I remember looking at the feet and those stubby toes, and it reminded me of my son's."
Bizarre behavior
The Kansas Parole Board will conduct two more public sessions for people who want to express their views on convicted murderer John William, who is up for parole. They will be at:¢ 8:30 a.m. to 10:30 a.m. Friday, Landon State Office Building, first floor, Room 106A, 900 S.W. Jackson St., Topeka.¢ 11 a.m. to 2 p.m., May 29, Finney State Office Building, third floor, Room 3080, 230 William, Wichita.Written comments may be sent to the Parole Board at the Landon building address, 66612-1220.
William was tried for first-degree murder in November 1989. Twice the trial had been delayed because he was found to be mentally incompetent to stand trial. He spent 11 months in Larned State Security Hospital undergoing evaluations and treatment before the trial was allowed to proceed.
More than once, the trial was interrupted by bizarre outbursts from William. At one point Douglas County District Judge James Paddock ordered the jury taken out of the courtroom until William settled down. Another time the judge threatened to have William removed from the courtroom.
Place said she and William also exchanged words.
"I told him that he knew he did it, and he tried to come at me," Place said. "I told him I hoped he died in hell."
The jury deliberated less than two hours before finding William guilty. He was sentenced to life in prison; his appeals were all denied.
The first public comment session on his parole was Monday in Kansas City, Kan. There's another session this week and one next week.
"He tried to play nuts, but when somebody buries body parts and tries to hide them, they know what they are doing," Place said.
Sordid past
In 1977, a 15-year-old William was placed in a Texas institution in the death of a 12-year-old boy in DeSoto, Texas. William was released when he turned 18, authorities said.
During their investigation of the Settlemyre case, police and Douglas County Sheriff's officers developed possible links to murders elsewhere by William, Harmon said. Investigations into those links were put on hold because of technicalities with William's case and during the appeals process. It still is possible those investigations will be followed up now, he said.
Sue Place said Richard's father was emotionally shattered by the murder. He left home and ended up in an Oklahoma nursing home where he suffered a stroke and a heart attack. He is now dead.
"He blamed himself," Place said. "The stress cost him his life."
Place, who has remarried, hopes to attend one of the remaining public comment sessions the Kansas Parole Board scheduled this month for those who are up for parole hearings.
Police normally send written comments to the Parole Board about convicts who are up for parole, Harmon said. In William's case, however, Chief Ron Olin or another representative probably will make a personal appearance to ask that parole be denied, Harmon said.
The Settlemyre murder, Harmon said, "was one that sticks in the minds of all the officers and detectives who worked on the case and probably always will."
Copyright 2018 The Lawrence Journal-World. All rights reserved. This material may not be published, broadcast, rewritten or redistributed. We strive to uphold our values for every story published.