Austin, Texas — Benaud Shirley wasn't happy with his performance, but it was hard to argue with the results.
Shirley defended his title Monday at the Big 12 Outdoor Track and Field Championships with a leap of 51-5 1/2. It was more than a foot short of the senior's personal-best mark, but it was his best leap of what has been an injury-riddled season.
"I didn't really know what to expect because I haven't jumped since the Drake Relays," Shirley said after a three-week layoff. "The competition was kind of weak today, but a win is a win. I haven't been competing because I've been hurt, so I just came in and gave it all I had. I've been battling a lot of injuries, and I haven't jumped well in a while. I started practicing a couple weeks ago, and I'm really off as far as strength, speed and technique. I'll get some rest for regionals and take it easy so that I can go out and jump hard at that meet."
NCAA Indoor champion Leo Bookman ran his best time of the outdoor season but settled for second in the 200 meters when Christian Brendan of Texas matched a stadium record in 20.29.
"I'm happy, but I wanted the win," said Bookman, who finished in 20.37. "I knew I had to get out quick because the start was key. It was the best competition I have had in a long time, even compared to nationals. The next two weeks I am going to work harder than I have ever worked before in my life to prepare for regionals and nationals."
The Midwest regional is May 30-31 in Lincoln, Neb.
Sophomore Jeremy Mims placed third in the 800 with a personal-best time of 1:48.71.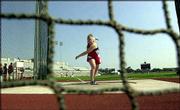 Texas and Nebraska swept the top two spots in the men's and women's team standings. KU's men were ninth. KU's women's sixth-place finish was the Jayhawks' best since the inception of the Big 12.
KU freshman Abby Emsick was second in the discus, throwing a personal best 173-08.
The 4x400 relay team of senior Robbie Harriford, junior Stacy Keller, senior Shameika McField and sophomore Kim Clark finished third with a school-record time of 3:36.67.
KU's 4x100 relay team of freshman Tiffany Cherry, junior Duchess Williams, McField and Harriford finished fourth with a regional-qualifying time of 45.97 McField also ran a regional qualifying time in the 400 when she placed fifth in 54.71.
Junior Laura Lavoie (4:23.53) and sophomore Megan Manthe (4:28.37) finished third and sixth in the 1,500. Clark (2:09.95) and freshman Jenna Bimbi (2:14.84) came in fifth and eighth in the 800.
Copyright 2018 The Lawrence Journal-World. All rights reserved. This material may not be published, broadcast, rewritten or redistributed. We strive to uphold our values for every story published.