DETROIT — Mike Maroth has run out of words to describe his horrid start to the season.
Maroth became the second pitcher in Detroit history to lose his first nine decisions of the season as the Seattle Mariners beat the Tigers, 6-2, Sunday behind eight strong innings from Joel Pineiro.
"It makes it tough, talking about it quite a bit," Maroth said. "I'm not going to let the negative talk or the records bother me."
Bret Boone, Carlos Guillen and Greg Colbrunn homered for the Mariners, who swept the three-game series and have won six of seven overall to improve their AL-leading record to 28-15.
"Everyone is just swinging the bat," Boone said. "We're just playing really good."
Maroth gave up six runs and eight hits in five innings to join Ted Gray (1953) as the only Tigers pitchers to start the season 0-9. Heathcliff Slocumb was the last pitcher to lose his first nine decisions of a season, doing it in 1997 with Boston and Seattle.
"He's handled himself with a composure that I don't think too many people have," Tiger manager Alan Trammell.
The major-league record for consecutive losses to start a season by a pitcher is 14, by Joe Harris (1906) of the Boston Pilgrims, and Matt Keough (1979) of the Oakland Athletics.
Pineiro (4-3) allowed four hits, struck out seven and walked two. He gave up only Bobby Higginson's two-run homer in the first inning.
"I haven't thrown like that in a while," Pineiro said. "It felt great. It felt like a spring training game. In spring training, I was locked in. Then I got out of focus. But I'm zeroed in again."
Seattle led 2-0 after the game's first two batters. Ichiro Suzuki led off with a line single to right, and Guillen then lined a pitch over the fence in left-center for a two-run homer.
But Detroit tied it in the bottom half on Higginson's two-run shot. It followed a one-out walk to Ramon Santiago.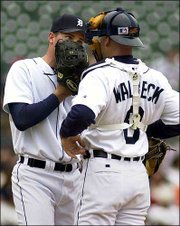 Colbrunn gave the Mariners a 3-2 lead when he homered to lead off the second inning. His opposite-field drive just got into the corner of the bullpen in right-center.
Seattle stretched the lead to 4-2 in the fourth when Ben Davis' two-out double off the scoreboard in right-center scored Randy Winn, who had reached on an infield single and stole second.
Boone made it 6-2 with a two-run homer in the fifth, his third home run in two games.
"Mike, today, was not as sharp as he had been," Trammell said. "He made a couple of bad pitches, and they made him pay for it."
The Tigers had runners on first and third with two out in the sixth after singles by Dmitri Young and Carlos Pena. But Pineiro struck out Craig Monroe to end the inning.
"That was as good as I've seen him," Seattle manager Bob Melvin said. "He was economical with his pitches."
Red Sox 5, Angels 3
Boston -- John Burkett won for the first time in eight starts, and Jason Varitek had two RBIs as Boston moved into a first-place tie with New York in the AL East. Manny Ramirez homered, and Bill Mueller had three hits for the Red Sox, who have a share of first place for the first time since June 27. Boston begins a three-game series against the Yankees at Fenway Park tonight. Boston's Nomar Garciaparra went 2-for-4 to extend his hitting streak to 19 games, the longest current streak in the majors.
Twins 3, White Sox 2
Minneapolis -- Tom Gordon's wild pitch and shortstop Jose Valentin's throwing error let Minnesota score twice in the eighth inning, and the Twins rallied past Chicago for a three-game sweep. Minnesota moved into first place all alone for the first time this season. The AL Central champion Twins took a one-half game lead over Kansas City. The White Sox lost their eighth in a row at the Metrodome. LaTroy Hawkins (3-0) pitched 12/3 innings for the win. Eddie Guardado pitched the ninth for his 10th save in 10 opportunities.
Athletics 8, Indians 5
Cleveland -- Eric Byrnes hit a tiebreaking RBI single in a five-run ninth inning against Cleveland closer Danys Baez as the Athletics avoided a three-game sweep. With the A's trailing 5-3, Erubiel Durazo led off the ninth with a double and scored on Mark Ellis' one-out single. Following a single by Terrence Long, pinch-hitter Chris Singleton tied the game with a single. Byrnes then hit a single to right-center to give Oakland a 6-5 lead and extend his hitting streak to 10 games.
Rangers 5, Yankees 1
New York -- John Thomson held New York's sputtering offense to three hits, leading the Texas Rangers to a victory that completed their first three-game sweep at Yankee Stadium.
Thomson (3-4) gave up doubles to Alfonso Soriano in the first and third innings, and to Hideki Matsui in the sixth, winning for the first time since April 29.
It was Thomson's eighth complete game, his second this season, and the lowest-hit complete game of his career.
Juan Gonzalez hit a go-ahead, two-run homer off Mike Mussina (7-2), who lost his second straight start after winning his first seven. The Rangers have won three straight, matching their longest winning streak this season.
Devil Rays 9, Orioles 8
Baltimore -- Aubrey Huff doubled in the tiebreaking run in the ninth inning, and Travis Lee went 4-for-5 with three RBIs as Tampa Bay beat Baltimore. By taking two of three from Baltimore, the Devil Rays have won three straight road series for the first time in club history. It's also the first time Tampa Bay has won three straight series since 2001. Jeff Conine, Deivi Cruz and Melvin Mora homered for the Orioles, who have lost seven of eight.
Copyright 2018 The Associated Press. All rights reserved. This material may not be published, broadcast, rewritten or redistributed. We strive to uphold our values for every story published.