Vicki Scott came of age at East Heights School.
Flipping through a stack of scrapbooks in the East Heights teachers' lounge, Scott fondly recalled her years grappling with complexities of reading, writing and arithmetic in the red-brick elementary school on Haskell Avenue.
Scott, now a paraprofessional at East Heights, said lessons learned at East Heights went beyond the standard curriculum.
"In first grade, I pulled a boy into the bathroom and kissed him," she said. "I got in a lot of trouble."
The memory is one of thousands of slices of life that come tumbling out as current and former students and educators contemplate the closing of East Heights as an elementary school site.
The school board's vote concludes this chapter in the building's 49-year life cycle, which began during the post-World War II population explosion in Lawrence and will end as the number of children in that part of the city dwindles below levels to satisfy the district.
The closure of East Heights -- long a battle ground for consolidation -- has been tough for folks to accept.
Photo Gallery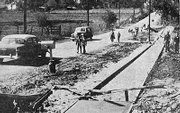 East Heights
"I don't think it's right," said Amanda Faulkner, who went to East Heights for four years and graduated from Lawrence High School in 1998. "I know a lot of people feel the same."
Long halls, laughing kids
Built in 1954, East Heights welcomed 96 boys and girls on the first day of classes in September of that year. The tiny building only served children in kindergarten through third grade.
District officials already knew the school was too small for the area's growing population. The board approved an expansion that added four classrooms, an auditorium, kitchen and clinic. That created enough space for East Heights to become a full-fledged elementary school in 1956. Enrollment was then 268 children.
Students continued to come. The quick answer was to bring in a portable classroom and buy a house south of the school, which was used as a first-grade classroom.
In 1958, the school board approved construction of six more classrooms.
Through the years, thousands of students went through the school. Nine principals were placed in charge of those children. Most thrived, but a few were run off.
A quarter-century of westward expansion in Lawrence finally did the school in as well. As the school's enrollment dropped, it became a target of closure advocates. It will close with less than 150 students in the fold.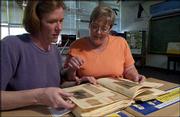 The end has done nothing to erode powerful memories of people who called East Heights their school home.
"Back in '56, East Heights was a very posh school," said Connie Laughlin Bishop of Lawrence, who started there as a second-grader that year. "I remember the school as bright and clean. Long halls, laughing kids, kind teachers. A very stern-looking principal, Miss (Cecilia) Pearson. Later did I realize that she was a saint."
'A good experience'
Caro Spears-Latham of Lawrence attended East Heights in the early 1960s, transferring there from Pinckney School.
"I will never forget my fifth-grade teacher, Miss Tiger," she said. "Her words of wisdom that I have always carried with me and continue to pass on are, 'Learn to read, and love books. Use the library, and you can travel the whole world without every having to go anywhere.'"
Teresa Marshall, who went through East Heights in the 1960s and now works at the school, said her most powerful recollection was driven home by the point of a needle.
"What I remember most was how they used to line us up in the gym and give us shots in school," Marshall said.
Karen Vespestad recalls her first day as a teacher in a special-education class in 1985 at East Heights.
"I had a kid try to go out the window," she said. "I had one kid pull out a pair of scissors and put it in his belt, and he was going to stab me. The whole room was chaos."
Her mother, a retired teacher, picked her up for lunch.
"I started crying, and I said, 'What would happen if I never went back?'" Vespestad said. "My mother ... said, 'You probably aren't going to get hired as a teacher again.'"
She returned, and was able to survive and thrive.
"They were testing out the new teacher," she said.
Sixth-graders Taylor Jones and Aaron Rea will be among the last to complete their elementary education at East Heights.
"I recall a dust devil that passed across the playground," Jones said. "It picked up grass, and we ran around it."
Rea said he cherished his year as a third-grader at East Heights. That's when he had his favorite teacher, Adela Solis, and lost his best friend, who moved away.
He's surprised to finish at East Heights.
"When I was in kindergarten, they were thinking about closing it down," Rea said. "I liked the fact it was a smaller school. You pretty much knew everyone here."
Gary Johnson, the last principal at East Heights, said Rea was right to recognize that the people met along the way formed ties that bind.
"We've got a great community of people," Johnson said. "Kids are wonderful. Staff is great. It's been a good experience."
Copyright 2013 The Lawrence Journal-World. All rights reserved. This material may not be published, broadcast, rewritten or redistributed. We strive to uphold our values for every story published.