It used to happen all the time:
One of Gov. Bill Graves' Cabinet secretaries -- Jamie Clover Adams at the Department of Agriculture, for example -- would testify in favor a farmer-friendly water-quality bill. Minutes later, her counterpart at the Department of Health and Environment, Clyde Graeber, would testify against it.
"On natural-resource issues, the Graves administration almost always sent a mixed message," said Charles Benjamin, a Kansas Sierra Club lobbyist who has sat through dozens of committee hearings.
Nobody's saying that about Gov. Kathleen Sebelius' administration.
Shortly after taking office, Sebelius created an in-house team of Cabinet secretaries and agency directors whose sole mission is to break down the barriers among the state's water bureaucracies.
The group -- called the Cabinet Team on Natural Resources -- is led by former governor and Wildlife and Parks Secretary Mike Hayden. It meets every Thursday.
Sebelius also overhauled the front office at the Kansas Water Office, appointing Joe Harkins interim director and Ken Grotewiel, a former legislator and staunch environmentalist, as assistant director.
Harkins ran the Kansas Water Office from 1982 to 1991 under then-Govs. John Carlin and Hayden.
"Bringing (Harkins) back is a good thing -- we lost ground when he left," said Mary Fund at the Kansas Rural Center, a nonprofit agency that advocates for family farms and sustainable agriculture. "And (Hayden) has always been a good friend of the environment; he really knows the ins and outs of the process and what to push and what not to push."
Both Fund and Jay Barnes, executive director at the Kansas Natural Resource Council, an environmental group, said they were unaware of the weekly Cabinet Team on Natural Resources meetings. But they were pleasantly surprised to learn about the team.
"That tells me natural-resource issues are getting the kind of attention they deserve," Barnes said. "I'm glad."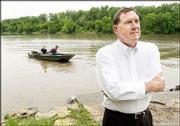 Genuine interest
Harkins said Sebelius' interest in water issues was genuine and far exceeded that of her recent predecessors in office.
"I think it's fair to say that water was a high priority in the Carlin and Hayden administrations," Harkins said. "But it was not a priority in the (Joan) Finney administration, and we didn't see a high level of interest in the Graves administration."
Hayden said Sebelius had "made it clear to me that she wants water to transcend partisan politics. And I think that's great, that's the way it ought to be."
Hayden said neither he nor Sebelius was bothered by the fact that he's a Republican and she's a Democrat.
Sebelius has the "political will" to take on the controversies that are sure to surround upcoming battles over water quality, Hayden said, rescuing shrinking reservoirs and finding a way to salvage underground water supplies without driving irrigators out of business.
On the same page
Last week's Cabinet Team on Natural Resources meeting was typical, Hayden said.
The group reviewed the latest scientific literature on the importance of preserving playa lakes, landscape depressions that fill with spring and fall rains, creating temporary wetlands.
"From a wildlife-and-parks perspective, we've always understood the value of playas -- they're critical habitat for migratory birds," Hayden said. "But agriculture has always looked down its nose at playas; that's understandable, farmers want to farm them and many of them have."
The conflict in perspectives, Hayden said, is long-standing.
The Cabinet Team on Natural Resources includes:¢ Wildlife and Parks Secretary Mike Hayden¢ Health and Environment Secretary Rod Bremby¢ Agriculture Secretary Adrian Polansky¢ Kansas Conservation Commission Executive Director Tracy Streeter¢ Livestock Commissioner George Teagarden¢ Water Office Interim Director Joe Harkins
But now, he said, research shows playas play a key roll in recharging a region's underground water supply.
"All of a sudden, agriculture is interested -- we're all on the same page," Hayden said. "So when the governor talks about taking a more coordinated approach, this is the kind of thing she's talking about."
Rebuilding the Water Office
Sebelius appointed Harkins interim director at the Kansas Water Office, replacing acting director Clark Duffy, who replaced Al LeDoux last fall after LeDoux was charged with sexual assault and kidnapping.
LeDoux's troubles -- he pleaded guilty and was sentenced to more than 12 years in prison -- put the Water Office on its heels, Harkins said.
"That had a profound effect on the people who work here, there isn't any doubt about that," he said. "He was their friend, he was very much admired. Everybody was shocked -- you can still feel the sadness in the halls."
On Wednesday, Harkins and Grotewiel are scheduled to meet with the Kansas Water Authority to unveil plans for "revitalizing" the Kansas Water Office and its processes for long-term planning.
"Right now, when issues come up, they're studied and, depending on the conclusions, they're added to the state plan, which is voted on once a year," said Water Office spokesman Hank Ernst.
Harkins and Grotewiel don't want to wait that long.
"They're looking for a much quicker response time," Ernst said.
Testing the reforms
Water-watchers say Sebelius' reforms will be tested later this year as lawsuits challenging the state's clean-water standards wind their way through federal court.
"I wish the governor well, I really do," said the Sierra Club's Benjamin. "But I have to say I'm skeptical. The reality that's out there says that agriculture is the state's biggest water user, as well as its biggest polluter. And up to this point, it's controlled the water-quality debate in the Legislature.
"That's the fundamental dilemma she's up against."
Copyright 2017 The Lawrence Journal-World. All rights reserved. This material may not be published, broadcast, rewritten or redistributed. We strive to uphold our values for every story published.