Casablanca, Morocco — Investigators rounded up suspected Islamic militants Saturday after nearly simultaneous suicide strikes against Jewish and Spanish targets in downtown Casablanca that killed 41 people, including 13 bombers, an official said.
Five groups of attackers -- 14 in all-- carried out the bombings, Interior Minister Mostapha Sahel said. A surviving, wounded attacker was being interrogated, he said. A bomb in working order was found in a raid on the attacker's house.
An Interior Ministry official said investigators were focusing on whether the attackers were linked to a known extremist group, Salafia Jihadia, which is suspected of ties to the al-Qaida terror network.
The official, who spoke on condition of anonymity, said suspected Islamic militants were being questioned but that it was "too early at this stage to refer to them as arrests." It was not clear how many people were being questioned.
Police set up barriers on roads into Casablanca, checking cars.
Salafia Jihadia has been the object of police sweeps for months. About 100 people found to have ties with the homegrown group were in custody before the attacks Friday night. They include an Islamic cleric known for his fiery sermons and anti-Western views who was detained in March in Casablanca.
The bombers appeared organized, and their attacks were carefully planned. The interior minister said they divided into five groups in the attacks on five civilian targets -- from a Spanish social club to an old Jewish cemetery. About 100 people were injured, 14 seriously, the minister said.
The deadliest bombing ripped through the upscale Casa de Espana social club as clients were playing bingo or dining. Some 20 people were killed, among them a guard whose throat was slit, according to the club president.
The scene of horror was repeated at other downtown sites, including a glitzy hotel.
"People were severely wounded, crawling in the street, completely burned and disfigured," said Sabah Mazouzi, a 33-year-old Moroccan teacher who was in the club but escaped unscathed. "I saw one person missing his jaw," she said.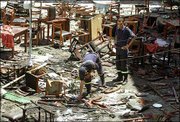 U.S. offers help
Without directly implicating al-Qaida, the Moroccan government laid blame on international terrorism.
"We have strong suspicions that this cell had contacts with foreign groups," said the interior minister, though he also said the attackers appeared to all have been Moroccans.
The bombings were "the work of an international network of blind terrorism," Hassam Aourid, a spokesman for the Moroccan king, said in a statement.
"Morocco is determined to crack down on it without mercy," he said.
President Bush said the United States was offering Morocco assistance in finding those responsible.
"These acts of murder show, once again, that terrorism respects no boundaries nor borders," he said in a statement. "These acts demonstrate that the war against terror goes on."
The strikes left a grisly trail of devastation, stunned this Muslim kingdom on the Atlantic coast -- a staunch U.S. ally -- and left the world to grapple anew with the knowledge that terror's reach had no bounds.
Series of violence
The blasts came just four days after a series of suicide bombings in the Saudi capital, Riyadh, killed 34 people at three foreigners' housing compounds.
Besides the Casa de Espana, suicide bombers struck a Jewish community center called the Israelite Community Circle, an old Jewish cemetery, a major downtown hotel and the Belgian Consulate.
However, Belgian Foreign Minister Louis Michel said his country believed the consulate was "collateral damage," with the real target a restaurant across the street.
The Positano restaurant is owned by a French Jew of Moroccan origin. Jean-Mark Levy said the bomb exploded in the middle of the narrow street and the consulate took most of the impact.
The attacks Friday night threw Casablanca into chaos. The city remained on edge Saturday.
"We are profoundly shocked," said Serge Berdugo, president of the Council of the Jewish Community in Morocco. "This drama is a thunderbolt in a serene sky."
'War with America'
Last year, Moroccan authorities cracked an al-Qaida plot to attack U.S. and British warships in the Strait of Gibraltar. Three Saudis were given 10-year prison sentences in February.
Dia'a Rashwan, an expert on radical Islamic groups at Egypt's Al-Ahram Center for Political and Strategic Studies, said terrorists wanted the Casablanca strikes to convey the message: "We are capable of striking anywhere, very efficiently and regardless of security measures."
The terrorists were saying that "the war with America is going on, anywhere, and anytime," he added.
Copyright 2018 The Associated Press. All rights reserved. This material may not be published, broadcast, rewritten or redistributed. We strive to uphold our values for every story published.