Kansas City, Mo. — Jason Grimsley couldn't contain his anger.
Orlando Hudson was called safe on a close play at first base with two outs in the eighth inning, and Frank Catalanotto followed with a tiebreaking bases-loaded triple that led the Toronto Blue Jays over the Kansas City Royals, 7-4, Saturday night.
With the score 3-all, Vernon Wells led off the eighth with an infield single off Grimsley (1-3). Two outs later, pinch-hitter Greg Myers walked, and Orlando Hudson hit a slow roller to second. With Grimsley covering the bag, first-base umpire Gerry Davis called Hudson safe on a close play, and Kansas City players argued.
Catalanotto then tripled to right-center and scored on Chris Woodward's single off D.J. Carrasco for a 7-3 lead.
After Kansas City manager Tony Pena removed him from the game following Catalanotto's triple, Grimsley glared at Davis.
Davis ejected Grimsley, and the pitcher came back out of the dugout and went nose to nose with Davis before he was restrained by teammates.
"I just wanted to tell him what I thought," Grimsley said. "It's a game of emotions. Sometimes those emotions spill over. It's frustrating. The call at first base was huge."
Grimsley tossed a Gatorade bucket onto the field before leaving the dugout.
"He threw me out when I was in the dugout," Grimsley said. "I wasn't going to go out there until he threw me out."
Kansas City manager Tony Pena didn't argue the call.
"From my angle, it was a very close play," Pena said. "For me to go out there, I've got to be 90 percent sure."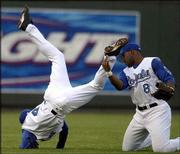 Hudson said Grimsley "made a good attempt at getting over there."
"It was a bang-bang play," Hudson said. "It was one of those situations where the umpire gets caught in between. It's a hard decision."
Kansas City has lost four of its last five games and is 8-14 following a 16-3 start. The Royals have held at least a share of the first place since opening day, but their AL Central lead was cut to a half-game over Minnesota, the defending division champion.
"We end up making mistakes and giving up extra outs," Pena said. "We can't afford to do that."
Desi Relaford hit an RBI double in the bottom half of the eighth off Aquilino Lopez. Cliff Politte, the third Toronto pitcher, got three straight outs for his fifth save in seven chances, completing a six-hitter.
Roy Halladay (4-2) gave up three runs -- two earned -- and five hits in seven innings. He struck out seven and walked none.
When: 1:05 p.m today.Where: Kauffman Stadium.Television: None.Pitchers: Kyle Snyder (0-0) vs. Kelvim Escobar (1-1).K.C. record: 24-17 (1/2 game up).
"I felt good," Halladay said. "I had to make some adjustments after the first inning. I felt like my curveball and cutter were good. I stayed with that the rest of the game."
Toronto had 13 hits, and every Blue Jays starter had at least one hit for the second straight night. Toronto, which has won five of seven, had a season-high 22 hits in Friday's 18-1 victory.
Jeremy Affeldt matched his season high by pitching six innings, allowing three runs and eight hits. In his third start since coming off the disabled list, he threw 106 pitches.
Reed Johnson hit his first major league home run, a first-inning drive off Affeldt, who had allowed just one homer in 29 1-3 innings this season coming in. Tom Wilson added an RBI double later in the inning for a 2-0 lead.
Relaford hit a run-scoring single in the bottom half, but Josh Phelps' RBI single made it 3-1 in the third.
Kansas City tied it on Mike Sweeney's RBI double in the third and Halladay's run-scoring wild pitch in the fifth.
Notes: Toronto has homered in 11 straight games. ... Mike Bordick extended his hitting streak to 10 games with a single in the second. ... The Blue Jays' three errors gave them an AL-leading 37, two more than Kansas City.
Copyright 2018 The Associated Press. All rights reserved. This material may not be published, broadcast, rewritten or redistributed. We strive to uphold our values for every story published.