When seniors speak, Kansas University listens.
And when graduating students took a senior survey three years ago, the results showed a gradual dissatisfaction with recreational services on campus. That dissatisfaction was one of the reasons KU leaders pushed for a new $17 million student fitness center, paid for with student fees and slated to open this fall.
"That's why you do it -- to get ideas," Mary Chappell, director of recreational services, said of the surveys. "You never want to get negative results, but sometimes you need to see those negative results to make them positive again."
Since 1977, KU has distributed senior surveys to graduating students every four or five years. The surveys seek input on everything from food service to academic advising.
The survey was last distributed in 2000. It will be administered again next year.
"We look at the data and send it out to the deans and the directors," said Kathleen McCluskey-Fawcett, senior vice provost. "A lot of the results have stayed even and high, which is nice. If things are consistently low or drop suddenly, we take a look at that."
The surveys are one of the reasons KU revamped its dining service for residence halls, opening the Ekdahl Dining Commons in 1993 for students living on Daisy Hill. Compared to the years before the new dining hall, satisfaction on the scale of 1 to 5, with 5 being "very satisfied," rose to 3.2 in 2000.
"(The change) wasn't entirely based on the surveys, but it was part of it," McCluskey-Fawcett said. "You've got some data to show it wasn't just a few kids whining."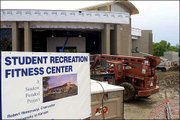 The senior surveys also helped bear the idea for the Freshman-Sophomore Advising Center, which started in 1998. Seniors have consistently rated their academic advising at a 3.3 or 3.4 since 1977.
However, "we can't tell the impact yet because the last class we surveyed didn't use the center," said Deb Teeter, director of institutional research and planning. "By 2004 we're hoping to see different results."
In 2000, students rated fitness facilities and equipment a 3.0 on a satisfaction scale of 1 to 5, a decline from previous polls.
"No one wants to read you're gradually going downhill," Chappell said, "but sometimes you can't offer more in the environment you're in. We have to use something to track progress."
Chappell hopes to see the satisfaction level in recreational services rise after the unveiling of the new fitness center.
Copyright 2018 The Lawrence Journal-World. All rights reserved. This material may not be published, broadcast, rewritten or redistributed. We strive to uphold our values for every story published.