Leavenworth — A man accused of stabbing his 11-year-old son and leaving the developmentally disabled boy to die on the Kansas Turnpike pleaded innocent Friday.
Arraignment for Raymond Boothe, who has a history of mental illness, lasted less than a minute. He's scheduled to be back in Leavenworth County District Court May 30 for a pretrial hearing.
Six months ago, Boothe's court-appointed attorney, Gary Fuller, of Leavenworth, won permission to seek an independent evaluation after a Larned State Hospital evaluation found that Boothe was mentally competent to stand trial.
Since then, Fuller has twice assured the court that the second evaluation was in its final stages. But the hearing Friday ended without its being mentioned.
"I don't know what that's about," said Boothe's father, Eugene Boothe, of Cameron, Mo. "I've been told it's being held up because of money -- the state's out of money until sometime in July," referring to the start of the state's budget year.
Eugene Boothe said Fuller asked family members two weeks ago to raise $2,500.
"We pretty much told him we don't have that kind of money," he said.
Attempts to reach Fuller for comment were unsuccessful.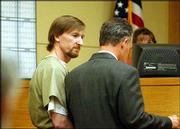 Pat Scalia, executive director of the Kansas Board of Indigents' Defense Services, which foots the bill for defendants too poor to pay for their own defense, said she planned to contact Fuller.
"Questions surrounding the payment should not be holding up this matter," she said.
During Raymond Boothe's preliminary hearing last month, Leavenworth County Detective Ron Ewert testified that Boothe had confessed to killing his son, Levi Boothe, because the boy was "an abomination" and had "given him the finger."
Ewert said Boothe told him he had tried unsuccessfully to strangle Levi with one hand, after which Boothe stopped his car, dragged the boy into a nearby ditch and stabbed him several times with a pair of needle-nose pliers and a "folding Buck knife."
Boothe said he then dragged Levi from the ditch, flung him onto the turnpike and, before leaving, ran over him once with his right front tire, Ewert testified.
Because of his multiple disabilities, Levi Boothe was unable to talk and could barely walk. Leavenworth County Undersheriff David Zoellner said several passers-by called that night to report seeing "something that looked like a human being crawling" alongside the turnpike.
Levi Boothe's body was found in the outer westbound lane near mile marker 207.
Raymond Boothe is being held in the Leavenworth County Jail.
"They've got him stabilized, he seems to be doing all right," said Eugene Boothe. "He seems to understand what he did."
Copyright 2018 The Lawrence Journal-World. All rights reserved. This material may not be published, broadcast, rewritten or redistributed. We strive to uphold our values for every story published.