New York — Sabbath morning services ended, and thousands of black-clad men in round fur hats and prayer shawls streamed out of synagogues.
They turned a slow course past shuttered businesses, massing on a highway overpass in an act of religious protest. A seemingly obscure issue had drawn the more than 3,000 Hasidic Jewish demonstrators: a dispute over whether a symbolic enclosure of wood posts and wires violates proper observance of the Jewish day of rest.
The protesters were among those who feel the Sabbath is being desecrated in the city's ultra-Orthodox Williamsburg section. But observers say that fight is part of a larger struggle.
There is a tussle for control of the Satmar sect in Williamsburg, while the weakened majority Satmars are -- in turn -- having a sharp disagreement with dissident Hasidim from other movements.
In the internal Satmar disagreement, the two sons of the sect's grand rabbi are feuding over its leadership, spawning lawsuits and bitter recrimination. Hasidic movements are patrilineal dynasties, with each grand rabbi passing control to a son.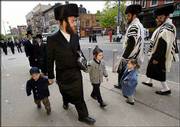 The Satmar feud has shaken the sect's control of their Brooklyn neighborhood in the heart of Hasidic New York, providing an opening for dissident congregations which support the symbolic enclosure, called an eruv.
"The power of Satmar is declining a little bit. The other sects are gaining a little bit more power, and chutzpah, to say that 'We will put up an eruv,"' said Menachem Friedman, a professor of the sociology of religion at Tel Aviv's Bar-Ilan University.
"It symbolizes the idea that, 'You Satmar are not controlling, and we have the right to make our own view on our issues."'
The issue has played out sometimes on the streets of Williamsburg, where about 30,000 Hasidim live, with street fights and sabotage incidents.
Copyright 2018 The Associated Press. All rights reserved. This material may not be published, broadcast, rewritten or redistributed. We strive to uphold our values for every story published.