PARKVILLE, MO. — Jose Maria Canizares birdied the first three holes and finished with a 3-under-par 69 Friday to take the opening-round lead at the Bayer Advantage Celebrity Pro-Am.
One stroke behind at The National were Dave Eichelberger and James Mason. Tom Jenkins, Vicente Fernandez and Andy Bean were at 71.
Tom Watson, who designed the 6,955-yard course in a hilly and heavily wooded area north of Kansas City, birdied the par-5 18th for a 72. A cold north wind and steady rains made birdies hard to come by in the Champions Tour event.
Canizares' six birdies included three putts in the two-foot range.
"I started very good and then played OK from then on," he said. "The rain was coming very heavy at times and the wind was tough. But the course held up pretty good."
Defending champion Bruce Lietzke shot a 7-over-par 43 on the front nine and then withdrew, citing tendinitis in an elbow.
"When you get to be our age there's not a lot of tread left on the tires," Watson said.
Watson, who thought he might have a slight edge because he knows the nuances of The National so well, was happy with the way the course played.
"I'm grinning from ear to ear," he said. "I think the golf course proved itself today."
Weather was expected to improve for the final two rounds today and Sunday with rain moving out.
"With no wind, I think the guys are going to shoot some low scores," Watson said. "If we have no wind, I think there'll be a lot of birdies tomorrow."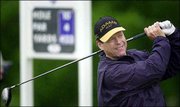 The toughest hole on the course, as Watson expected, was the par-4, 437-yard No. 7, where Canizares took a bogey.
"The players had to hit long shots into the green," Watson said. "If they pushed their drive a little bit, then they had a tree.
"Actually, that's one of the holes I designed that looks a lot easier than it plays."
Mason had four birdies and two birdies in what he described as "tough conditions."
"On a day like this, you've just got to worry about keeping your clubs dry," he said. "And my caddy (his son Chris) did a great job of that. It was playing a lot harder than we played in the practice round."
Mason was 3-under until he bogeyed the par-5 18th.
Hale Irwin, the leading money-winner on the tour and the winner last week of the Kinko's Classic, was five strokes back.
In addition to the Champions Tour event, the pros are playing with celebrity or amateur partners the first two rounds. Leading that competition with a 61 were Andy North and partner Dave Christensen.
Copyright 2018 The Associated Press. All rights reserved. This material may not be published, broadcast, rewritten or redistributed. We strive to uphold our values for every story published.