Kansas City, Mo. — A wet field kept the Toronto Blue Jays from taking batting practice Friday night.
So they took it out on the Kansas City pitchers.
Vernon Wells homered, doubled twice and singled as the Blue Jays rapped 22 hits and trounced the Royals, 18-1.
"With this lineup, once things get rolling it's fun to watch," Wells said.
"We've been swinging the bats well lately and this is just another game that we did. We put the ball in play. When you can do that consistently, hits just keep on rolling."
Wells drove in four runs and scored three. The Blue Jays set season highs for runs and hits.
Every Toronto starter had at least one hit and scored a run. Kansas City hurt itself by throwing five wild pitches, three of them allowing runs to score.
"Everybody has games like that. You just hope they don't happen very often," Royals catcher Mike DiFelice said. "We just got beat today. There's no excuse. You try not to spend any time thinking about it.
"They came out ready to play. We wanted to come out and get a win, but we didn't get it done. They got greedy; they just kept swinging the bats," he said.
Shannon Stewart and Tom Wilson each had three hits. Stewart left after seven innings and his replacement, Reed Johnson, had two hits.
It was 5-0 before Toronto broke open the game by getting four runs in the sixth inning and seven more in the eighth.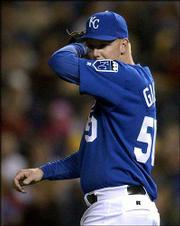 "We've got a good hitting club," Toronto manager Carlos Tosca said. "You've got to bring your 'A' game when you face us."
Mark Hendrickson (4-4) limited the Royals to one run in seven innings.
"I got back to my strengths and what was successful last year, and that's throwing strikes," he said. "It's nice to have a big lead. You want to pitch to the situation. You don't want to get away from throwing strikes. I was pretty good with the rhythm and made them put the ball in play."
Chris George (4-3) pitched a perfect first inning, but struggled from there on. He gave up five runs on seven hits in five innings, and also was hit by two line drives.
Wells hit an RBI double in a three-run third and Carlos Delgado lined a shot off George for an RBI groundout.
Jason Gilfillan made his major league debut for Kansas City, relieving in the sixth inning. He gave up singles to the first three batters he faced before striking out Mike Bordick.
When: 6:05 tonight.Where: Kauffman Stadium.Television: None.Pitchers: Jeremy Affeldt (3-1) vs. Roy Halladay (3-2).K.C. record: 24-16.
But two straight wild pitches gave Toronto a pair of runs, and Wells hit a two-run homer, his 11th.
Wells doubled to start the big eighth and also had a run-scoring single. He leads the AL with 43 RBIs.
Gilfillan gave up four runs on five hits and a walk in one inning. Royals relievers Albie Lopez and Sean Lowe were tagged in the eighth, and Mike MacDougal gave up two more in the ninth.
Notes: Toronto pitching coach Gil Patterson was not at the game. He left the club for personal reasons. He was replaced by bullpen coach Bruce Walton, whose spot was filled by Rick Langford, the Blue Jays' pitching coach at Class A Dunedin. ... Bordick extended his hitting streak to nine games. ... Mike Sweeney went 2-for-4. He's hitting .333 (8-for-24) during a six-game hitting streak for the Royals. ... Lopez left the game with nobody out in the eighth because of a groin pull. He will be evaluated today. ... The Royals lead the AL with 25 wild pitches.
Copyright 2018 The Associated Press. All rights reserved. This material may not be published, broadcast, rewritten or redistributed. We strive to uphold our values for every story published.