Philadelphia — Chauncey Billups' shooting touch was as good as his prediction.
"During the timeout before overtime, I told them, 'I'm about to take this game over,'" said Billups, who scored nine of his 28 points in overtime to lead Detroit to a series-ending 93-89 victory Friday night over Philadelphia.
The Pistons advanced to the Eastern Conference finals for the first time since 1991 -- the year after winning their second straight NBA title. Detroit will play defending East champion New Jersey, beginning Sunday afternoon, for the right to go to the NBA Finals.
Billups gave the Pistons a 92-89 lead with 15.2 seconds left in overtime on his third three-pointer of the extra session. He scored Detroit's first six points of OT on three-pointers.
"I was very, very aggressive in overtime, trying to look for my shot. I turned it on. My mentality changed."
After Allen Iverson missed a driving layup with 10 seconds to go, Chucky Atkins made a free throw to ice it with six seconds left.
The Pistons, who set an NBA record by going 8-0 in overtime games during the regular season, improved to 2-0 in overtime in the playoffs.
"I can't say enough about our team and what they've been able to do," Pistons coach Rick Carlisle said. "We've had injuries, situations, and everybody on our roster has been instrumental to us getting to this point."
Iverson, who was late arriving at the arena because he supposedly was stuck in a traffic jam, scored 38 points -- including six in a row in OT to tie the game after Detroit went ahead 89-83.
Richard Hamilton scored 19 points, Corliss Williamson had 17 and Tayshaun Prince added 14 for the Pistons, who had lost 14 of 15 road playoff games.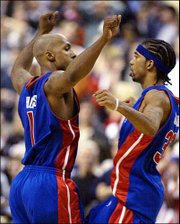 Derrick Coleman had 14 points and 11 rebounds and Kenny Thomas added 12 points and 14 rebounds.
"They got it done and we didn't," Iverson said. "We couldn't catch a break and we put ourselves in a bad situation with fouls."
The Sixers had a chance to win it in regulation after Billups made two free throws to tie it at 81 with 14.6 seconds left. Iverson brought the ball upcourt, but couldn't get a shot off as he was guarded by Prince.
"If I shot the ball, he would've blocked it," said Iverson, who has never made a "walk-off" shot to end a game. "It's not supposed to come down to that."
After Prince's layup gave Detroit an 89-83 lead midway through overtime, Iverson scored six straight on a short jumper and two driving layups to tie it.
Detroit missed twice on its next possession, and Iverson missed a 20-footer with 37 seconds left to set up Billups' final three-pointer.
"We have a lot of options at the end of games, but I'm the guy more often," said Billups, Detroit's leading scorer in the playoffs.
Iverson didn't arrive at the First Union Center until 32 minutes before the scheduled starting time. He had no problem getting on track early, hitting five of his first six shots and scoring 21 in the first half.
"It wasn't a distraction, it was a disappointment," Sixers coach Larry Brown said of Iverson's lateness. "He played his heart out."
Copyright 2018 The Associated Press. All rights reserved. This material may not be published, broadcast, rewritten or redistributed. We strive to uphold our values for every story published.