Minneapolis — The Minnesota Twins took out the frustration of a 14-inning loss on their biggest rival, the Chicago White Sox.
And struggling lefty Mark Buehrle took the brunt of it.
Torii Hunter and Bobby Kielty each hit a three-run homer Friday night for the Twins in an 18-3 rout. Kielty drove in a career-high five runs, Hunter had four RBIs and A.J. Pierzynski went 4-for-4 for Minnesota, which roughed up Buehrle for a career-worst 10 runs in his sixth straight loss.
"Hey, he's beat us enough over the last two or three years," Doug Mientkiewicz said.
Mientkiewicz hit one of the Twins' four homers and had three of their 20 hits.
"We just stuck it to 'em," said winning pitcher Brad Radke, the beneficiary of the extended batting practice.
Minnesota, which went 25-13 against the White Sox the last two years but lost two of three to them last month, figured to be fighting Chicago for the AL Central lead. Instead, it's the Royals who lead Minnesota by 1 1/2 games and the White Sox by 4 1/2.
There wasn't any trouble between the teams, who have had some intense, beanball-filled meetings and exchanged plenty of trash talk the past two years.
There's always extra motivation for the Twins against Chicago, but they were just as eager to wash away the taste of Thursday's 9-5 loss to Kansas City in 14 innings.
"After a game like that, it's like whoever's coming to town," manager Ron Gardenhire said. "The White Sox, sure. We've got a good history with these guys. We've had a lot of good battles ... They're in our division. It means a lot when you beat them."
Buehrle (2-7) allowed 10 hits, nine earned runs and two walks in 3 1/3 innings for Chicago, coming off a three-game sweep at Baltimore.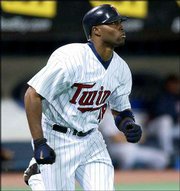 "I don't know what's going on," Buehrle said. "It seems like everything I throw up there, they're hitting it."
Angels 6, Red Sox 5
Boston -- Brad Fullmer was 3-for-4 with an RBI double that gave Anaheim its first lead of the game after the Angels rallied from a a four-run deficit to beat Boston. Francisco Rodriguez (4-1) blew a 5-4 lead in the seventh but got the win when the Angels took the lead back in the eighth. He allowed one run on one hit and a walk, striking out two in one inning.
Troy Percival pitched the ninth for his sixth save in as many opportunities.
Alan Embree (2-1) allowed one run on two hits and a walk in one inning. He was almost rescued when Trot Nixon's drive with two outs in the eighth brought right fielder Jeff DaVanon to the short wall, where he gloved the ball, crashed into the fence and watched the ball pop out for a triple.
Brendan Donnelly got Shea Hillenbrand to ground out to end the threat. Donnelly has not allowed an earned run in 22 1/3 innings this year.
Indians 3, Athletics 2
Cleveland -- Omar Vizquel's speed and Ellis Burks' clutch hitting gave Cleveland a win over the Oakland and halted Mark Mulder's five-game winning streak. Vizquel lined a two-out single to center in the eighth inning with the score tied at 2. He stole second on the first pitch to Burks and scored when the Indians' designated hitter lined a single off the glove of diving first baseman Scott Hatteberg.
Billy Traber (1-0) gained his first major-league win by striking out two in a hitless eighth inning, and Danys Baez pitched a perfect ninth for his seventh save.
Indians starter C.C. Sabathia matched Mulder for seven innings. The 22-year-old left-hander struck out a season-high eight and allowed two runs and four hits -- including home runs by Carlos Hernandez and Miguel Tejada.
Burks tied it at 2 with a two-run homer in the sixth.
Rangers 8, Yankees 5 (12)
New York -- Hank Blalock hit his second three-run double of the game in the 12th inning and Texas denied Roger Clemens his 299th career win. Blalock also connected off Clemens in the second to give him a career-high six RBIs.
The Rangers snapped a three-game losing streak after being swept in Boston, where all the talk was about whether Clemens would skip his start Wednesday to win his 300th game at home.
Texas manager Buck Showalter took that personally, upset everyone was already assuming Clemens would beat the Rangers. But Texas got to the Rocket early, breaking out to a 5-1 lead and handed the Yankees their fourth loss in five games.
Mariners 6, Tigers 3
Detroit -- Edgar Martinez homered in his third straight game and drove in three runs, leading Gil Meche and Seattle past Detroit. John Olerud scored twice for the AL West-leading Mariners, who have won nine of 13. The Tigers dropped 21 games below .500 at 9-30.
Meche (5-2) won for the fourth time in five starts, allowing three runs on six hits in six-plus innings. He walked four and struck out four.
Arthur Rhodes pitched two scoreless innings, and Kazuhiro Sasaki recorded three outs for his fifth save in nine chances.
Devil Rays 5, Orioles 1
Baltimore -- Aubrey Huff doubled twice, singled and drove in two runs as Tampa Bay handed Baltimore its sixth consecutive loss. Seth McClung (4-1) pitched 6 1/3 innings of four-hit ball for the last-place Devil Rays, who have won two straight and five of seven.
McClung allowed one run, walked six and struck out three in the second-longest outing of his career. The Orioles again played without manager Mike Hargrove, whose mother died May 12. He is expected to rejoin the team for today's game.
Copyright 2018 The Associated Press. All rights reserved. This material may not be published, broadcast, rewritten or redistributed. We strive to uphold our values for every story published.