Things have worked out for Devin and Annette Miller.
They stayed warm through the winter by turning on their oven for heat. Neither of their young daughters fell through the holes in their trailer's floor. And this spring they were able to buy their own mobile home.
They paid $200 for the trailer near the Douglas County 4-H Fairgrounds.
It needed work -- mostly a lot of cleaning -- but the Millers are pleased to live in a home where they don't have to rely on a landlord to keep up with basic maintenance.
Perhaps hundreds of others across Lawrence are not so lucky, and their advocates blame the problem on a lack of awareness, greed and an unfair system.
Last year, city inspectors responded to 63 tenant complaints about housing code violations. The city has received at least 35 complaints so far this year, and tenant advocates say an even greater number of code infractions go unreported.
The problem? Tenants don't know their rights -- or are afraid to stand up for them.
In January, the Millers were living at 1045 E. 23rd St., in a trailer rented from JoAnn and Wade Qandil.
The walls buckled when pushed on, and the rotted floor had been only temporarily patched. At least five windows were without glass, and water had been frozen in the pipes for three days.
The landlord's side
For her part, Qandil said the family still owed her $2,000 and that she had agreed to rent the Millers the trailer at a reduced rate on the condition they take care of all maintenance. Qandil agreed to one interview with the Journal-World but declined to comment when faced with later questions.
¢ Monday: Living in squalor and keeping quietA look at substandard living conditions in Lawrence and what landlords and tenants have to say.¢ Today: The roots of the problemTenants don't know their rights, and some landlords take advantage. An unlevel playing field complicates the problem.¢ Wednesday: What to doTenant advocates pose some solutions to the problem of substandard housing, and others weigh in on chances of success.
In any event, the Millers didn't take their case to the city. They said they feared eviction -- and homelessness.
Low-income tenants often don't realize their options, said David Sears and Anita Owens, a couple whose trailer, also at 1045 E. 23rd St., was destroyed last year by fire.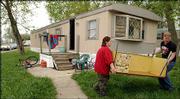 They blamed the fire on bad wiring and poor maintenance. Qandil blamed it on dangerous space heaters. Like the Millers, Sears and Owens never reported the problems they said their trailer had.
"Where else do you go except for the landlord?" Sears said. "We were in danger of being evicted."
Except in areas zoned for single families where rental inspections are done every three years, city inspectors only respond to complaints. Many tenants don't know that fact, and advocates say educational seminars are poorly attended.
A flawed law?
"If they don't say, 'Building inspector, come out, I'm concerned about this,' then it doesn't happen," said Lisa Patterson, a city spokeswoman.
When dealing with any landlord, good or bad, the best thing for tenants to do is put complaints and requests in writing, said Cornell Mayfield, a counselor at Housing and Credit Counseling Inc., which provides assistance to tenants and home buyers.
"Then most of the time they have a pretty good chance of surviving," Mayfield said. "It's those who do it verbally and don't have any proof that end up behind the eight ball."
But some advocates say the law is flawed because landlords aren't obliged to find suitable replacement housing for a tenant forced to leave a property because code inspectors declare it uninhabitable.
Landlords can be sued later for hotel bills and other expenses, but no law makes them immediately responsible for finding new accommodations for tenants left homeless, said Danette Seymour, founder of the Kansas Tenants Union.
Kansas law places a greater burden on the tenant than the landlord, agreed Barbara Huppee, executive director of the Lawrence Housing Authority.
Though she deals primarily with subsidized public housing programs, Huppee said her office often took calls from the general public. She isn't surprised that many tenants are timid about complaining to their landlords or the government.
Because complaining can lead to an eviction notice, an order from inspectors to vacate or the loss of a security deposit, "it can be an expensive proposition" for tenants, Huppee said. "If you're low-income, it's virtually impossible."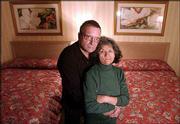 If a tenant wants to hold a landlord responsible for breach of lease, that tenant still must line up a new apartment, move and find the money to pay for it all.
"Clearly if your landlord breaches his contract, you don't have to be fearful," she said. "But the burden falls on you."
Eye of the beholder
Despite the problems tenants and their advocates have with the law, most states have similar statutes. Landlords said those who thought the law favored them didn't know the whole story.
"If you talk to a landlord, it favors the tenant. If you talk to a tenant, it favors the landlord," said Bob Ebey, vice president of Landlords of Lawrence Inc. and legislative liaison for The Associated Landlords of Kansas. "Personally, I think it's pretty equal."
¢ Housing and Credit Counseling Inc.: 749-4224¢ Kansas Tenants Union: 841-1236¢ Legal Services for Students: 864-5665¢ Lawrence Human Relations Department: 832-3310¢ Lawrence Building Inspection: 832-3100
Of course the job of moving or complaining falls to the tenant, said James Dunn, president of Landlords of Lawrence Inc.
"I don't know how it can be any other way," he said.
Dunn said one of his properties failed a recent inspection because the refrigerator hadn't been defrosted. Should the landlord enter an apartment to take care of such simple tasks? Dunn doesn't think so.
Kansas law puts tenants completely in control of the property they rent, Dunn said, and yet landlords are held responsible when a window gets broken.
"What landlord leverage is there? A 14/30," Dunn said, referring to the eviction warning document. "I don't like issuing 14/30s."
Copyright 2018 The Lawrence Journal-World. All rights reserved. This material may not be published, broadcast, rewritten or redistributed. We strive to uphold our values for every story published.