When a chunk of the ceiling fell on her as she stood at the kitchen sink, Jennifer Carroll Price knew something had to be done.
Asking her landlord nicely about fixing her trailer's leaky roof didn't seem to be working, so Price called the city.
Later that day, an inspector came to the trailer court at 1045 E. 23rd St.
He left with a lengthy list of problems found at Price's home.
The roof was leaking, causing serious damage to the ceiling. The hot-water heater was not up to par. There were cracks in the shower and bathroom sink, and water was dripping into light fixtures. The windows leaked, the bathroom was without ventilation, and, with no steps, the back door opened several feet above ground.
A few days later, Jennifer, 33, and her husband, Jarrod, 29, were served by the city a notice to vacate within 24 hours the trailer they rent from Wade and JoAnn Qandil.
They moved, but not far: a few yards, to another Qandil trailer with similar but lesser problems.
They said they wanted to leave altogether, but because they are jobless, without a working vehicle and are behind on rent, they had little choice but move into the other trailer offered by the Qandils.
Their situation is severe, but, said tenant attorney Bruce Plenk, "It's not isolated."
Though often unreported, tenant advocates say substandard housing is a problem in Lawrence. Landlords shoot back that a leaky trailer is better than nothing. And low-income renters say they put up with the problems because they have nowhere else to go.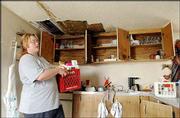 "We're not living here because we're rich," Jennifer Price said. "You get sucked in. This place is like a vacuum to hell."
Beyond trailer parks
In 2002, Lawrence building inspectors responded to 63 complaints from tenants about housing code violations.
Three of those 63 complaints resulted in tenants being forced by the city to vacate substandard structures.
The numbers are up for this year. By the middle of last week city building inspectors already had received 35 housing code complaints and posted three dwellings as uninhabitable.
But tenant advocates say many more violations go unreported.
"I think the problem unfortunately is quite common," Plenk said.
And he said the problems of substandard housing were not limited to one part of town or one part of the population; students, families and small businesses all face them.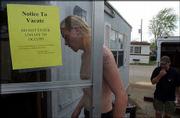 "There are some landlords in Lawrence who are very good and very responsible," Plenk said. "Unfortunately, there are too many landlords who do the barest minimum."
Cornell Mayfield, a counselor with Housing and Credit Counseling Inc., fields 30 to 50 phone calls each month from Lawrence alone. It's a problem statewide, and many others stay silent, he said.
Housing problems in Lawrence, experts said, are compounded because it is a college town with more than 18,000 rental properties and a transient population.
Better than nothing
"I give people all the chance in the world," said JoAnn Qandil, who, along with her husband, Wade, owns the 23rd Street property formerly known as Green Acres Trailer Court. The trailer park is now nameless, Qandil said, and is referred to only by its address. JoAnn Qandil manages the property.
She lets tenants fall behind on rent and make it up when they can. She'll give them odd jobs to help pay off debt.
She puts up with sloppy renters, mangy pets, people with health problems or drug addictions, and renters who leave owing her thousands of dollars, she said.
Tenants say Qandil will overlook bad credit and often waives a security deposit on her units.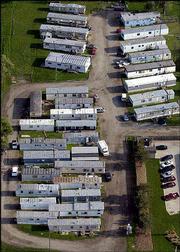 Qandil said she knows that for many her trailer park is a last resort.
"I had one guy who said to me the other day, 'I was homeless for a long, long time until you finally gave me a place to live,'" she said. "He's a good tenant. He keeps his rent up."
Qandil accommodates people other landlords won't, and there's something to be said for that, said James Dunn, president of Landlords of Lawrence Inc. and a friend of Qandil.
Tenants said requests for repairs are often ignored. Qandil said her handymen work as fast as they can.
Sometimes, she said, because tenants are behind on their rent, she doesn't hear of problems until the tenants have been evicted or choose to vacate.
"When they get behind, they don't want to complain," she said.
And sometimes repairs aren't made because the bill would fall to the tenants -- which Qandil knows they can't afford.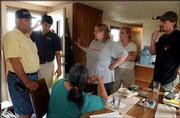 "I can show you where we spent a fortune on fixing things out here and they have been torn up," she said. "I mean, torn up."
Living with it
Qandil, who lives and works in downtown Lawrence, said lately she's been wondering whether it's all worth it.
She's owned the property on which about 35 trailers sit since 1996, and she wonders if another venture might be more profitable. The land alone has been appraised by the county at $370,780.
"If we can't keep it under control out there, we'll probably pitch it and do something else," she said. "It's a lot of work. I am out there constantly."
Tenant Jarrod Price likes the sound of that idea.
"The only thing that's going to fix this place is a gallon of gas and a match," he said.
And yet, like dozens of other renters at the park, he and Jennifer stay.
Qandil charges them nearly $500 a month by the time a late fee is assessed, utilities are paid and a pet fee is added.
They know that for that amount of money they could live in a much nicer home, but they don't have steady jobs, money for a deposit or especially good credit, all of which make finding a new place difficult.
"They got us jammed up pretty good," Jarrod Price said.
People stay in the park -- and places like it -- because they feel they have no other choice, Jennifer said. "Lawrence is an expensive place to live."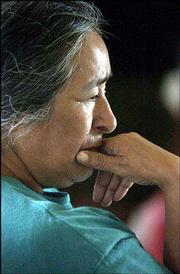 And tenants say they don't complain for fear of retaliatory eviction. Except in areas zoned for single families -- where rental inspections take place every three years -- tenants in Lawrence must request an inspection.
Though their kitchen ceiling already was crumbling when they moved into the trailer last fall, the Prices waited nine months before calling the city.
¢ Housing and Credit Counseling Inc.: 749-4224¢ Kansas Tenants Union: 841-1236¢ Legal Services for Students: 864-5665¢ Lawrence Human Relations Department: 832-3310¢ Lawrence Building Inspection: 832-3100
Their neighbor, Julia Martinez, has lived in the park for two years and also has had multiple problems with her trailer.
But she owes Qandil $2,000 and until recently thought it best to lie low.
"Afraid she'll kick me out," Martinez said.
After seeing the Prices' situation -- and speaking with the Journal-World -- Martinez also requested a city inspection. Notice to vacate was posted on her trailer last week, friends and family said.
The problems at the trailer park are a two-way street, said David Sears and Anita Owens, who now have the benefit of hindsight -- and distance.
The couple lost nearly everything when their trailer at the park was destroyed by a December fire. Penniless and homeless, they were offered a rent-free apartment last winter by a another local landlord who took pity on their plight. They still live there for free.
Tenants use Qandil, and she takes advantage of them, the couple said. And it continues because tenants aren't aware of their rights and they don't have anywhere else to live.
"It's a place to go," Owens said. "That's the only good thing about it ... but if I had known what I know now, I would have lived under a bridge. I would have been better off."
¢ Today: Living in squalor, and keeping quietA look at substandard living conditions in Lawrence and what landlords and tenants have to say.¢ Tuesday: The roots of the problemTenants don't know their rights, and some landlords take advantage. An unlevel playing field and high housing costs complicate the problem.¢ Wednesday: What to doTenant advocates pose some solutions to the problem of substandard housing, and others weigh in on chances of success.
Copyright 2018 The Lawrence Journal-World. All rights reserved. This material may not be published, broadcast, rewritten or redistributed. We strive to uphold our values for every story published.