Two days after a tornado pillaged their homes, residents in southwest Lawrence spent Saturday packing up what remained of their belongings.
In some cases, there wasn't much.
"It's been the worst day of my life," said former Kansas University football player Algie Atkinson, who lived in a top-floor apartment at Aberdeen South apartments, 4700 W. 27th St.
By late afternoon, Atkinson and a few friends had been sorting through the ruins of his apartment for nine hours. By the time they were done, they had salvaged only a television, a small table and a few boxes.
Others fared better, but the mood was solemn at the complex, where victims and their helpers picked their way through shingles, broken glass and other debris as they packed up their lives. Most expected to be finished by sundown.
"It's emotional," said County Commissioner Charles Jones, who helped in the effort. "People are sort of at the ends of their wits, and they'll see something that's sentimental and they'll burst into tears."
Most of the work was done by tornado victims and their friends and neighbors, although at least one woman thought a better system should be instituted.
The Red Cross provides immediate food, water and shelter, said Melinda Henderson, but there is no coordinated volunteer effort for long-term cleanup.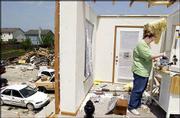 "Let's have a volunteer staging area, too, so instead of people driving by and rubbernecking, let's get them involved," said Henderson, who was helping friends move. "We need to have a community dialogue on this."
Henderson, of Lawrence, tracked down help by calling friends with pick-up trucks, while others posted notices on community forums on the Internet.
And that's probably as good as could be expected, said Jane Blocher, director of the Douglas County chapter of the American Red Cross.
"You've just got to find donated help," she said. "That's just not an area where the Red Cross has concentrated any of its efforts."
Some questioned why the Roger Hill Volunteer Center hadn't coordinated a cleanup effort, but director David Morrissey said that wasn't the center's goal. Instead, his office tries to point volunteers to established agencies where they might be helpful.
Morrissey said that by late afternoon a notice had been posted on larryville.com that no more help was needed in packing up victim's belongings.
Blocher also reminded tornado victims of the Red Cross service center, which opened Saturday at Wesleyan Church, 3705 Clinton Parkway. The center will be open 1 p.m. to 6 p.m. today and 9 p.m. to 6 p.m. the rest of the week.
U.S. Rep. Jim Ryun, R-Kan., will be making a stop in Lawrence to tour damage caused by Thursday's tornado.Ryun will meet Douglas County Emergency Management employees at 1 p.m. Monday at the Judicial & Law Enforcement Center, and they then will tour the area damaged by the tornado.
Those who suffered losses can meet with a case manager and, after a review of damages, receive vouchers for lodging, clothing and food.
"We really want people to take advantage of that," Blocher said. "All that assistance is 100 percent free."
Copyright 2018 The Lawrence Journal-World. All rights reserved. This material may not be published, broadcast, rewritten or redistributed. We strive to uphold our values for every story published.