There are fashions in collecting, just as there are fashions in clothing.
In the 1950s, the most popular collectible ceramic was 18th-century English porcelain. Factories like Worcester, Chelsea and Bow made figurines and dinnerwares that were wanted by collectors whose homes were filled with Chippendale-style furniture. Less-formal white pieces of ironstone were made in Staffordshire factories. They were popular as shelf decorations in homes filled with "early American" furniture. By the 1970s, styles changed. New brides requested pewter, not silver. They wanted heavy pottery dishes, not bone china. The handcrafted look of wood was in. Wedgwood in traditional shapes and designs was probably the No. 1 ceramic collectible in 1970. American art pottery made from the 1870s to the 1930s was just beginning to interest collectors. Ohio potteries like Rookwood and Weller became favorites. Only a few regional collectors searched for Newcomb (New Orleans), Grueby (Boston) or Van Briggle (Colorado Springs, Colo.) pottery.
Styles changed again in the 1990s. Art pottery was in, and delicate English cups and saucers were out. Roseville Pottery (Roseville, Ohio) had made popular pottery for 52 years. Much of it was molded wares with raised floral decorations. Collectors could find Roseville at reasonable prices, and it is now the No. 1 ceramic collectible.
What's next? Many young homeowners are looking for collectibles to go with the styles of the 1950s and '60s. Czechoslovakian pottery in bright colors, California pottery decorated with pastels, and bright solid-colored dinnerwares, like Fiesta, are now in demand.
Want a bargain? Search for pieces that are out of style. They should go up in price as they go up in demand.
My grandmother died in 1963. She left me a lamp base that's stamped "Aladdin" on the bottom. The base is 13 inches tall and pear-shaped. It is bright orange with white embossed flowers and leaves. Can you help me with the age and value?
Your lamp base is made of Alacite, an ivory-colored glass developed by Aladdin Industries. The company used Alacite to make kerosene and electric lamps from 1939 to 1952. Your lamp, Model G-326, was introduced by Aladdin Industries in 1950. The base came in Chinese red (bright orange) and chartreuse. The colors were produced by a ceramic glaze that was fired onto the Alacite base. Your lamp base sells for about $50.
I found a blue ceramic cereal bowl among my grandmother's things. The bowl is 6 1/4 inches in diameter. The words "Find the bottom" are around the top of the inside of the bowl. In the center is an embossed rabbit with the words, "Um-m All Gone." The bowl is marked with a Ralston brand cereal box. Was this a promotional item?
Your grandmother's bowl was an advertising premium for Ralston Whole Wheat Cereal. The cereal was first sold in 1898 as Purina Whole Wheat Cereal by William H. Danforth, a St. Louis businessman. He persuaded a well-known health enthusiast, whose pseudonym was "Dr. Ralston," to endorse it as a health benefit. Within a short time, the cereal was renamed Ralston. Your bowl probably dates from the mid-1920s. It was available in exchange for cereal-box tops. Today it would sell for about $90.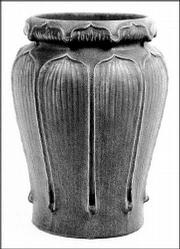 I bought a 10-inch brown mohair teddy bear at an auction. We were told he might be a Steiff bear, although he does not have a button in his ear. He is stuffed with excelsior and has amber-colored glass eyes with black pupils. His nose and mouth are hand-embroidered with black floss. The woman who owned him was born in 1925. Can you help me identify the bear?
Without some identifying tag or mark (such as the "button in ear" trademark of Steiff, a famous German manufacturer) or some unique feature like Schuco's yes-no mechanism, it is impossible to identify the maker or age of your bear. Given his features, your bear is probably American and most likely dates from the 1930s or '40s. Even a well-loved (worn) bear the age of yours in less than excellent condition is a valuable toy.
My great-grandmother brought a pair of brass candlesticks for the Jewish Sabbath to the United States when she emigrated from Minsk, Russia, in the late 1800s. The base of each candlestick is stamped "Norblin & Co., Warszawa." I don't want to sell them. I just wonder how I should take care of them. Are they valuable?
Your Sabbath candlesticks were made in Warsaw (Warszawa), Poland, about 1890. Both Warsaw and Minsk, which is now in Belarus, had large Jewish populations at the time. Your candlesticks are probably brass or a low grade of silver. You can try cleaning them with silver polish. Special brass-cleaning products are also available. A pair of candlesticks like yours sells for $200 or more.
Tip
If you have an entry door with a large window, put unbreakable glass in the window. The easiest way for a burglar to enter your house is by breaking the window in the door and reaching in to unlock the door. Either put in unbreakable panes or install a slide bolt that is out of reach.
¢
The Kovels answer as many questions as possible through the column. By sending a letter with a question, you give full permission for its use in the column or any other Kovel forum. Names and addresses will not be published. We cannot guarantee the return of any photograph, but if a stamped envelope is included, we will try. The volume of mail makes personal answers or appraisals impossible. Write to Kovels, (name of your newspaper), King Features Syndicate, 888 Seventh Ave., New York, NY 10019.
Current prices are recorded from antiques shows, flea markets, sales and auctions throughout the United States. Prices vary in different locations because of local economic conditions.¢ Carnival-glass bowl, Three Fruits pattern, amethyst, marked "Northwood," 9 inches, $55.¢ Butter Krust Bread advertising sign, blond girl unwrapping loaf of bread, yellow ground, canvas, 33 x 36 inches, $325.¢ Majolica bowl, Shell & Seaweed pattern, pink interior, 3 1/4 x 8 1/2 inches, $345.¢ Hopalong Cassidy watch by U.S. Time, gray ground, red numbers and hands, box shows photo of Bill Boyd as Hoppy, 1949, $510.¢ Three Little Pigs toy, cloth-covered tin, lithographed tin instruments, clockwork, 1930s, Schuco, 4 1/2 inches, 3 pieces, $660.¢ Batman and Robin bookends, plaster, Batman in gray-and-blue mask and cape, Robin in red and green, 1966, 7 1/2 inches, $740.¢ Coffee mill, Swift Mill No. 13, cast iron, upright, double wheels, spider-web spoke design, Lane Brothers, $850.¢ Madame Alexander doll, Sonja Henie, ivory skating costume, brown sleep eyes, open mouth, blond hair, skates, 1940, 13 inches, $1,550.¢ Brass cutlery tray, pierced sides, open wrapped handle, paw feet, England, c. 1810, $2,250.¢ Queen Anne dressing table, cherry, molded edge, thumb-molded drawers, carved fan above scrolling skirt, pad feet, 1750, 33 x 35 inches, $7,635.
Copyright 2018 The Lawrence Journal-World. All rights reserved. This material may not be published, broadcast, rewritten or redistributed. We strive to uphold our values for every story published.