Jim and Susan DeVore took shelter the only place they could Thursday night -- and a mattress might have saved their lives.
"We heard it outside and we just jumped under our bed," said Susan, still shaking 30 minutes after Thursday's tornado touched down in southwest Lawrence.
The couple's bedroom in the house they've lived in for 10 years at 2501 Scottsdale Drive, was connected to their garage.
But not anymore.
The garage is caved in; more than half of it collapsed on Jim's month-old Honda VTX motorcycle.
Particle board was scattered throughout their back yard, which leads to an open neighborhood -- remnants of where the tornado appeared to touch down, before picking its tail back up.
As Susan, a fifth-grade teacher at Kennedy School, showed friends and her son, Josh, the damage, she soon realized that her picture window in the living room was shattered.
But it was in the bedroom where they narrowly escaped injury or worse. Inches from their bed was the point of a 2-by-4 board staked through their wall.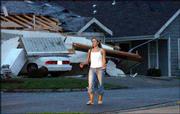 "I don't know what to think," Josh said, as he hugged his mom and gazed at the worn piece of wood hanging from the wall. "I'm just glad they're OK."
Heart of Lions
Lawrence High School students Andy Struble and Katie Loyd live right next to each other on Cherry Hills Drive.
Their houses were hit Thursday night, but not as hard as others. They wanted to go see if they could help their friends.
After meeting up with two more LHS pals, Josh Gering and Ryan Banning, and Free State friend Kendra Craig, the group went to survey the damage.
After helping clean up for some neighbors, they went to Aryenish Birdie's house on McCormick Street.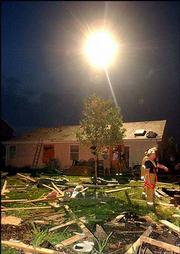 There wasn't much left.
Most of the LHS senior's bedroom was thrown outside, the wall destroyed. What was left looked like a tunnel entrance leading to the collapsed family room.
On a mattress entangled by bedsprings was a perfectly framed picture of Birdie and a friend visible to friends peering in her room as a ceiling fan continued to spin and Birdie worked to calm her dog.
Always a coach
Kansas University assistant strength and conditioning coach Jason Beaulieu stared through the wrought iron fence of Aberdeen Apartments & Townhomes.
Beaulieu lives in the complex. The roof stayed intact on his home, but the same couldn't be said for two of his football players.
Fullback Austine Nwabuisi and linebacker Glenn Robinson hid in a closet as the tornado barreled down on them.
"Wow," Beaulieu said, overlooking the leveled building that his players walked away from. "It's amazing that they're all right."
Copyright 2018 The Lawrence Journal-World. All rights reserved. This material may not be published, broadcast, rewritten or redistributed. We strive to uphold our values for every story published.