The last tornado to slam Lawrence also hit the city's southwest side, leaving one man dead and 33 people injured.
On June 19, 1981, a tornado carved a path of destruction through Lawrence. Damage was estimated to total about $18 million.
The tornado, which dropped out of the sky shortly after 7:30 p.m., skipped along a two-mile path between 27th and 31st streets in southwest Lawrence, demolishing the south end of the Kmart store at 3106 Iowa and overturning mobile homes at Gaslight Village mobile home park, 1900 W. 31st St.
Stan Pittman, a 30-year-old Kansas University computer assistant, was killed by falling debris inside the Kmart.
The tornado also damaged or destroyed at least 15 homes and several other businesses.
The injuries and death were blamed on a lack of warning about the storm. Phil Rankin, who was a volunteer storm spotter at the time, saw the tornado descend from the clouds and was able to issue a warning over his radio. His transmission started the city's warning sirens, but residents had only about 30 seconds to take cover.
"People didn't have time," he told the Journal-World in 1991. "They didn't have much warning."
Although the 1981 storm was deadly and changed many residents' lives, the destruction could have been worse. The tornado that struck Lawrence that day was unusual, meteorologists say.
It was imbedded in a thunderstorm that intensified so rapidly that forecasters at the National Weather Service did not have time to warn residents.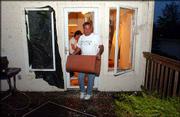 The thunderstorm that spawned the tornado grew from a height of 38,000 feet to 62,000 feet in 10 minutes.
And, perhaps most significantly, few residents actually saw a funnel cloud with the killer storm.
Here's a look at other area tornado history:
Sunday: Storms spawned tornadoes that touched down in seven Kansas counties, including Leavenworth and Wyandotte in northeast Kansas. The storms killed seven people in Kansas and more in Missouri.
May 11, 2000: A storm ripped through Tonganoxie, causing millions of dollars worth of damage to homes and businesses. The storm that eventually slammed into the Leavenworth County town formed near Topeka. One person was killed after the tornado when a structure collapsed during cleanup.
Here's a look at other Douglas County tornadoes from 1950 to 1995. The date of each twister is followed by the number of dead and injured, if any, and the tornado's Fujita scale ranking:
June 8, 1951, F2; May 22, 1952, two injured, F4; July 7, 1956, F1; June 11, 1957, F2; Nov. 17, 1958, F1; July 11, 1962, F2; Aug. 6, 1962, F3; Aug. 6, 1962, F1; Aug. 6, 1962, F1; April 2, 1964, F1; April 12, 1964, three injured, F3; June 12, 1966, F1; July 9, 1969, two injured, F2; May 4, 1977, one injured, F3; May 31, 1980, F2; June 19, 1981, one dead, 33 injured, F3; June 2, 1989, F0; March 12, 1990, F1; March 1, 1991, F0; June 15, 1991, F0; May 6, 1993, F0; July 9, 1993, F0; July 9, 1993, F1; Sept. 21, 1993, F0; Sept. 21, 1993, F0; May 16, 1995, F1.
Copyright 2018 The Lawrence Journal-World. All rights reserved. This material may not be published, broadcast, rewritten or redistributed. We strive to uphold our values for every story published.