Photo Gallery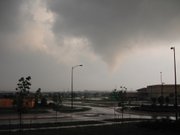 2003 tornado
A tornado touched down early Thursday evening in southwest Lawrence, churning a line of property damage from roughly 27th and Scottsdale to an area just northeast of Clinton Parkway and Wakarusa Drive.
The tornado crossed Clinton Parkway and damaged the roofs of some homes north of there, but lifted before it had time to do much damage outside of southwest Lawrence.
The tornado caused heavy damage to about 40 homes and six apartment buildings. About 1,800 homes in southwest Lawrence were without power at 10 p.m., according to 6News reports.
Only a handful of people reportedly sought assistance for injuries at Lawrence Memorial Hospital, 6News reported. During a press conference at 10 p.m., officials said they knew of only one injury in the damage area, where a person injured a foot by stepping on debris
Officials said there were about 30 dwellings that are not liveable south of Clinton Parkway and 10 homes north of Clinton Parkway that were damaged. An eight-plex in an apartment complex was almost completely destroyed by the tornado.
The American Red Cross was setting up a station at 27th and Scottsdale streets. A shelter was set up about 10:30 p.m. by the Red Cross at Free State High School's gymnasium. If you want to find out if a person you know has been displaced and is seeking shelter at the school, call 550-3942.
There was roof damage, window damage and vehicles that were overturned in the damage area, which was roughly bordered on the west by Wakarusa Drive, on the south by 27th Street, on the east by Scottsdale Drive and a residential area just north of Clinton Parkway.
Emergency crews were to work through the night. The Kansas National Guard was expected to help with traffic control. Utility crews were on the scene to try to restore power.
Southwest Junior High, Sunflower Elementary and Raintree Montessori schools, which were in the area hit, have all canceled classes for Friday.
Ross Janssen, 6News meteorologist, said the damage he had seen indicated the tornado had winds with a velocity of about 150 miles an hour, which was about an F-1 or F-2 on the Fujita scale. Janssen said the storm weakened as it went over Lawrence into Leavenworth County. In comparison, Sunday's tornado that hit the Leavenworth and Wyandotte County area was an F-2 tornado, with 200-mph winds.
Douglas County Commissioner Charles Jones told Joel Mathis, J-W reporter, that the county has declared a state of emergency and would be asking for federal and state disaster loan assistance for the storm victims.
Lawrence Fire Chief Jim McSwain urged sightseers to stay off the streets in the southwest Lawrence area so emergency workers could get through to the damage. McSwain said firefighters have not yet discovered any injuries at the Aberdeen Apartments area, 2300 Wakarusa Dr., which were struck by the tornado. One of the units at the apartments was severely damaged, with much of the roof lifted off.
Paula Phillips, director of Douglas County Emergency Management, told 6News reporter/anchor Janet Reid that people should also stay off telephones to allow emergency calls to get through. She left this number for people to call to report damage: 838-2462.
A weather spotter reported snapped power lines at Inverness Drive and Wakarusa Drive.
There were a number of large trees down, according to Sharita Hutton, 6News anchor reporter. Hutton said there were also natural gas smells in the Aberdeen apartment complex area. Hutton said Southwest Junior High School might have been damaged. A press conference was held at Sunflower Elementary School at 10 p.m.
The tornado went back up into the clouds about a mile and a half south and west of the Kansas University campus, according to one 6News weather spotter.
Kansas City television stations, which were monitoring the storm by helicopter, were showing damage live indicating most of the damage was in a residential area in southwest Lawrence just west of Raintree Montessori School, south of Clinton Parkway.
Part of the roof of Raintree Montessori was lifted off and there were some broken windows at the school, Hutton said. The school has decided to cancel classes for Friday while repairs are made.
Sirens sounded about 7:20 p.m. in the Lawrence area and the warning expired about 8 p.m.
As the sirens blew, students and staff on KU's campus ran to the basement of Strong Hall.
Hearing the tornado warning and realizing his house near 24th and Kasold didn't a basement, Sam Kanj, 28, and his brother, Walid, 26, ran to their car and headed for Strong Hall on the Kansas University campus.
"When we turned on 23rd Street, the tornado was right behind us," Sam Kanj said, speaking on a cell phone from the basement of Strong Hall.
"There was tons and tons of debris - wood and roofing material," he said. "It seemed to be was mostly white in color. We were very shaken by this.
"You see this on TV and you go, 'OK, cool,' but when you see it in person, you see how destructive it really is."
A house at 2308 Ranch Way was destroyed with a car tossed on its side. Emergency workers reported several injuries in the neighborhood.
Reports of damage from Osage County were limited shortly after a tornado touched down there, although a command post was being set up.
An Osage County Sheriff's dispatcher said that trees, power lines and a few homes had all been blown down.
County residents said there was no visible damage to Lyndon and Osage City.
The dispatcher said the command post would be located two miles north of Lyndon on Highway 75.
Copyright 2018 The Lawrence Journal-World. All rights reserved. This material may not be published, broadcast, rewritten or redistributed. We strive to uphold our values for every story published.