For once, Free State High wasn't the aggressor.
And that made all the difference.
Perennial state power Shawnee Mission Northwest, ranked fifth in Class 6A by the Kansas Baseball Coaches Assn., handed the top-ranked Firebirds a 4-3 defeat Tuesday at FSHS Field.
The Cougars (13-2) took an early 3-0 lead and kept FSHS (14-2) uncomfortable at the plate.
"We were on our heels a little bit," FSHS coach Mike Hill said. "And you can't come into a game like this not ready to go.
"They threw the first punch, got after us a bit, and I don't think we were prepared for that."
Even when the Firebirds scored two runs in the bottom of the sixth inning to tie the game at 3, Northwest snuck another run in the top of the seventh.
The Cougars had a leadoff walk by Andy Anderson, who advanced to third on a throwing error, then scored on a wild pitch from FSHS senior Matt Lane with two outs.
The Firebirds can't afford to dwell on the loss. They play their third straight ranked opponent -- Lawrence High -- Thursday at Ice Field.
"It was a dogfight," said junior Kyle Unruh, who had the Firebirds' lone RBI. "It was a tough loss, but you gotta get over it and get back at it. You can't get down; you just have to think of it as a learning experience."
Lane (7-1) suffered his first loss of the season. He never looked sharp, throwing four wild pitches, three of which the Cougars scored on.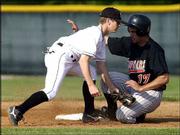 But Lane kept FSHS in the game.
After three hits and three runs in the first two innings, Lane allowed just three hits and one run in the final five innings, and struck out five batters. With the Firebirds managing just two hits in the first five innings, they needed strong pitching.
"Matt's greatest asset isn't his fastball, his changeup or his curveball," Hill said. "It's his toughness. After the third inning, I thought he was great. That's what we expect from a good pitcher."
Lane also was involved in the sixth inning's biggest play.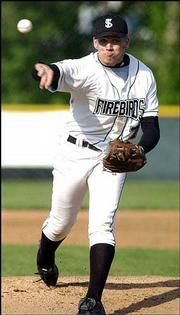 Lane opened the inning by reaching on an error, then scored on Unruh's RBI single four batters later. Senior Chris Coleman, who also singled, scored on an error, leaving Lane at third when junior Tyler Blankenship hit a fly ball to right field.
Lane tagged and broke for home, but the Cougars' Ryan Harding threw a rope to home plate, preventing the run.
"(Lane)'s not fast, he's not slow, he's an average runner," Hill said. "We knew the kid had a hose, but in the bottom of the sixth and you're the home team, you have to take that chance. We'd do it again in a heartbeat."
Northwest and FSHS each have two Sunflower League losses, but the Firebirds still have a chance to earn one of the top two regional tournament seeds.
"Our ultimate goal is the top seed in the regional tournament. That's paramount," Hill said. "But that doesn't mean you don't want to win them all. You gotta win a game like this. Shawnee Mission Northwest is a championship-caliber team.
"That's where we want to be."
Shawnee Mission Northwest 4, Free State 3
SMNW 120 000 1 -- 4 6 3
FSHS 001 002 0 -- 3 5 1
W -- Drew Leeper; L -- Matt Lane (7-1)
2B -- FSHS: Jake Hoover.
FSHS highlights: Hoover, 1-for-2, run; Kyle Unruh, 1-for-3, RBI; Chris Coleman, 1-for-3, run.
FSHS record: 14-2. Next: Thursday at Lawrence High.
Copyright 2018 The Lawrence Journal-World. All rights reserved. This material may not be published, broadcast, rewritten or redistributed. We strive to uphold our values for every story published.