The Lawrence Public Library is underfunded and doesn't spend nearly enough money on books and other new materials, director Bruce Flanders says.
That's why he told the Lawrence City Commission on Tuesday that he would ask for a 15 percent budget increase for 2004 -- a lean budget year in which most city agencies will scrap for even modest boosts in funding.
"We're going to be making a very bold budget request," Flanders told the commission. "I don't know how realistic it is, but it's bold."
Tuesday's meeting came after public concern about the library budget arose as an issue in this spring's commission campaign. That commissioners had special interest was evidenced by Flanders being given his own session to make a budget pitch. In 2002, the library director appeared as one of a series of department heads during a daylong City Commission meeting.
Commissioners nonetheless were hesitant Tuesday to endorse the full increase.
"My sense is we recognize this as a critical public service," Commissioner Mike Rundle said. "I don't think we have any clear idea on how to take on this challenge."
The Northeast Kansas Library Service gives the Lawrence Public Library nearly $60,000 a year in grant funding. The library spends only about 13 percent of its $2.04 million budget on books and materials, short of the 15 percent standard required by the library service.
The service has granted Lawrence a waiver from the requirement, and Flanders said Tuesday that he believed the waiver could continue in future funding years.
But he said to rely on the waiver would mean accepting "substandard" community service from the library. Lawrence was already below the state average in per capita library funding, he said, and ranked eighth among Kansas' nine biggest library systems in per capita funding.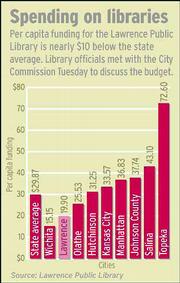 "Think of what we could be doing if our funding was more on par with the Kansas average, or other large cities," Flanders said.
The new budget request includes $265,000 just for books and materials, doubling current spending and raising the book budget well above 15 percent of the total.
"I agree it's a bold request," Commissioner Sue Hack said. "But we have folks who are providing great service on a limited budget. Sometimes you have to make the jump."
The commission's next budget session is scheduled for 2 p.m. May 19 in the Wastewater Treatment Plant, 1400 E. Eighth St.
Copyright 2018 The Lawrence Journal-World. All rights reserved. This material may not be published, broadcast, rewritten or redistributed. We strive to uphold our values for every story published.