The war in Iraq will bring 51 new jobs and a new manufacturing plant to Lawrence later this month.
Lawrence's Kinedyne Corp. said Tuesday it would open a second plant in Lawrence that would employ 51 people as part of a new military contract.
Dave McClain, general manager for Kinedyne's operations in East Hills Business Park, said the company was expanding to fulfill a contract to make cargo nets for the U.S. military. The nets are part of a system the military uses to load cargo onto ships and aircraft.
"Basically every pallet you see in the Air Force or Navy has one of these nets so they can hook a crane up to it," McClain said. "With the advent of the war and everything else that is going on in the government, they decided they needed quite a few more of them."
The dollar value of the contract wasn't disclosed by Kinedyne officials, but McClain said the contract was large enough to provide work for the company for at least two years.
Now hiring
Kinedyne, which specializes in making components for various cargo systems, is hiring employees for the project. The company also has started renovating a 16,000-square-foot building in the Franklin Business Park, which is just south of East Hills near the Douglas County Jail.
McClain said the new plant was expected to open about May 15. It is expected to employ 51 people in a variety of jobs, including a plant supervisor, two lead supervisors, maintenance workers, sewing machine operators, laborers, shipping and receiving personnel, and quality control staff.
McClain declined to give a salary range for the jobs, but he said they would be competitive with Lawrence-area wages and benefits.
Economic development officials said they were pleased with the news.
"They'll be good jobs and they come at a good time because we need the jobs right now," said Lynn Parman, vice president of economic development for the Lawrence Chamber of Commerce.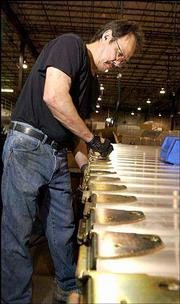 Several Lawrence firms have laid off workers recently, including the loss of 40 jobs at Lawrence Paper Co. Another 115 jobs at Davol Inc., a medical device manufacturer, were being lost with the closing of Davol's Lawrence plant.
Future development
Lawrence's Kinedyne plant was chosen for the contract over another Kinedyne operation in Alabama because engineering and technical staff that has worked on other government projects are based in Lawrence, McClain said.
The company leased the building in Franklin Business Park because its 40,000-square-foot East Hills plant already is running at capacity. That's because the company's other product lines have experienced increased demand.
Kinedyne's Lawrence plant produces a shoring beam system used in semitrailers to stabilize loads of cargo. McClain said the company, which employs 85 people, has increased its work force by about 5 percent during the past year despite a slowdown in the trucking industry.
"With the economy being down, most of our competitors are hurting, but we have remained pretty aggressive in the marketplace," McClain said.
More expansion could be on the way for the company, which has had a plant in Lawrence since 1989. McClain said the company in June would launch two more products that would be made at the Lawrence plant. He declined to identify either product but said they could have a substantial impact on the number of employees the company needs.
"If sales go the way they are forecasted, we'll really have to do something else out here pretty soon," McClain said.
The cargo-net project also may create more activity at Franklin Business Park. The 16,000 square feet Kinedyne will occupy in the park is the last available space in the park's lone industrial building.
Steve Glass, a partner in the 50-acre business park, said he hoped the project would spur developers to consider erecting another industrial building on one of the remaining eight lots in the park.
"We have been talking with another party that has been contemplating putting up another building to rent out," said Glass, who also is president of LRM Industries. "This should maybe help that out."
In addition, the development group that owns the building where Kinedyne will locate has city approval to build another 17,000-square-foot building in the park.
Tim Keller, a Lawrence real estate appraiser who leads the development group, said the Kinedyne project brought that building one step closer to reality.
"We'd still like to find a tenant before we begin construction, but we're getting more calls about the property all the time," Keller said.
Besides Alabama and Lawrence, New Jersey-based Kinedyne also has a plant in California. It employs about 400 people nationwide.
Copyright 2018 The Lawrence Journal-World. All rights reserved. This material may not be published, broadcast, rewritten or redistributed. We strive to uphold our values for every story published.