With Salina's Bob Vidricksen playing in the last group and down two strokes with three holes to play Tuesday at Alvamar, officials at the Kansas Golf Assn. Mid-Amateur Championship assumed it was safe to start a playoff between Jay Hepler and Alan Stearns, who both finished with a two-day total of 2-under-par 142.
Whoops.
Improbably, Vidricksen birdied two of the last three holes, also finished at 2-under and returned to the clubhouse wondering why Stearns had been all but named winner after making par on the first playoff hole.
"I'm turning in my scorecard, and they said the playoff is already over," Vidricksen said. "I said, 'How can there be a playoff without me?'"
With darkness rapidly approaching, Vidricksen rushed out and played the first playoff hole alone. Needing a par to force a second sudden-death hole, Vidricksen sunk a 20-foot putt for birdie, winning the tournament in unbelievable fashion.
A dejected Stearns, who shot a 3-under 69 Tuesday, was obviously disappointed in the bizarre finish.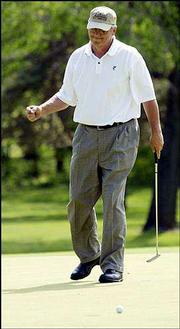 "I'm not upset that I lost," said Stearns, a former Kansas University golfer who won the event in 1998. "Bob played great. It's just a very difficult situation."
Vidricksen, who shot a 2-under 70 in the opening round Monday, birdied the 16th and 17th holes and made par on the 18th Tuesday to finish at even-par 72 and qualify for the already-completed playoff.
Stearns, of Overland Park, had to walk with Vidricksen in the event that Vidricksen would par the hole and force a second playoff hole. Instead, Vidricksen birdied to take the tourney.
Knowing that Hesler bogeyed and Stearns made par was an advantage, Vidricksen said.
"It's unfortunate for (Stearns)," he said. "He may have played the hole differently with me there."
Vidricksen, 55, became the oldest player to win the Mid-Amateur event in its 15-year history. The previous oldest were Roger Brown (1989) and Bill Mosimann (1996), who were 44.
"Whether they're older than me or younger than me, this is a pretty good field," Vidricksen said. "I'm not thinking about age right now. It'll sink in at some point.
"Right now, I'm just elated."
Lawrence will be the site of another KGA event when Lawrence Country Club plays host to the Senior Fourball Championships May 19-20.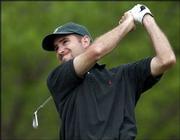 Copyright 2018 The Lawrence Journal-World. All rights reserved. This material may not be published, broadcast, rewritten or redistributed. We strive to uphold our values for every story published.