The Rev. Scott Hanks proudly flies his 600-square-foot Stars and Stripes outside his Heritage Baptist Church campus at the northwestern edge of Lawrence, but county inspectors are threatening to force him to turn off the lights.
The patriotic display's overnight glare, they contend, is breaking the law.
"No one's ever complained about the flag," said Keith Dabney, the county's director of zoning and codes, who this week told Hanks to turn off the lights. "It's the annoyance of the lighting level. We just need to make sure they're following the adopted regulations."
Until then, Hanks' 300-member congregation could be fined as much as $500 a day for its nighttime display, which casts six beams of light up an 80-foot-tall flagpole along the west side of East 800 Road, just northwest of the Lecompton Interchange along the Kansas Turnpike.
For his part, Hanks already has polled his church deacons and found unanimous support for defying the county's rules -- at least for as long as it takes to get into compliance.
The church needs to file a revised site plan for its new $1.4 million church campus, nestled on 26 acres along the north side of the turnpike. Neither the flagpole nor its 12-foot-tall lightpoles were included on the original plan, an oversight Hanks said couldn't have been avoided.
"We didn't know we were going to put up a flag," Hanks said Tuesday, as he oversaw construction inside the church's new sanctuary. "We didn't know we would be at war either."
The church membership voted only two months ago to spend $10,000 to put up the 600-square-foot flag, part of a tribute to U.S. troops facing off against Saddam Hussein in Iraq. Hanks and others met with officials from the American Legion about flag etiquette, and learned that flying Old Glory overnight would require a constant source of illumination.
Hanks didn't blink, and ordered the lights to be installed.
'No cause' for complaints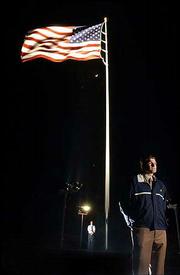 "It's right here by the interstate, and there's no houses near it," Hanks said. "There's no cause for anybody to complain. As far as I'm concerned, whoever doesn't want it is not American. It's not a hindrance for anybody."
Such judgment could be reserved for Douglas County commissioners, who approve site plans.
Hanks said he was working with Price Banks, a Lawrence-based land-use attorney, about options for retaining the flag's overnight display. Hanks intends to ask commissioners to approve a plan that includes the flag and its lights. He expects some regulatory understanding as the request spends a few weeks working its way through the government bureaucracy.
"We're at the end of a war," Hanks said. "I'm an American. I think it ought to stay lit."
Since the flag first was raised during a Kansas National Guard ceremony April 27, county officials say they have received five complaints from neighbors about the brightness of the lights.
Craig Weinaug, county administrator, said staffers would review the complaints before making a recommendation regarding the church's request for a revised site plan, should one be filed.
Either way, he's certain that emotions could run high.
Not a 'flag' issue
"It's motherhood, apple pie and the American flag," Weinaug said. "I've got a flag hanging outside my house. This isn't an issue of the flag. It's whether it's displayed in such a way that it causes problems for the neighbors and violates the county's regulations.
"And I don't know that it does. That still has to be determined, but it isn't an issue of the flag."
Don't tell that to Mel Lisher. The veteran of the Korean War now serves as first vice commander of Dorsey-Liberty Post No. 14 of the American Legion in Lawrence, where some 750 members aren't all that pleased with the rumblings out of the county courthouse.
Expect veterans to assemble a line of defense around the flag they fought to protect.
"We can't let a few people's complaints overrun everybody," said Lisher, who commanded tanks in the U.S. Army from 1950 to 1953. "If they're made to change this, then we're going higher up -- all the way to the president if we have to. That's the way it should be. That's proper."
Copyright 2017 The Lawrence Journal-World. All rights reserved. This material may not be published, broadcast, rewritten or redistributed. We strive to uphold our values for every story published.