Cincinnati — For whatever reason, the Cincinnati Reds are at their best at the end of close games. That's when Aaron Boone shines.
Boone led off the bottom of the ninth with a homer off Dustin Hermanson for a 5-4 victory Monday night that stopped the St. Louis Cardinals' winning streak at seven games.
Boone doubled home a couple of runs in the first, then won it with his sixth homer of the season, setting up another group huddle-and-jump at home plate.
Eight of Cincinnati's 14 wins have come in its last at-bat.
"We keep showing a lot of heart," said Boone, who had two game-ending homers last season. "If we can hang around, we seem to find a way to win. If we're going to win a lot of games, we've got to play cleaner games."
The Reds allowed a surprising four-run lead off Woody Williams to slip away because of more shoddy defense. They had a season-high four errors, giving them 41 for the season, the most in the majors.
The two decisive mistakes were made by Williams and Hermanson (0-1). Each left a slider over the plate for Boone, and quickly regretted it.
"I hung a slider to Boone and you saw what he does to that," said Williams, who settled down and lasted eight innings. "He did it at the end of the game, too."
Hermanson opened the ninth by throwing a pair of strikes, then missed twice before going to his slider.
"Just one hanging slider," said Hermanson, who was second-guessing himself. "I got beat on my third-best pitch, instead of a fastball or a splitter."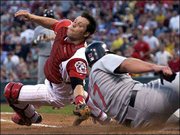 Boone is one of the Reds' best clutch hitters. He's hitting .333 with runners in scoring position, and knows how to relax under late-inning pressure.
"Some days, you just feel good," Boone said. "I hate to be 'aw shucks' about it, but that's kind of how it is."
Scott Williamson (3-1) relieved and got a strikeout and a harmless fly to escape a threat in the top of the ninth.
The Reds got off to a fast start against Williams, who has been the Cardinals' most dominant starter -- only four runs allowed in his first five starts. He came into the game with a 1.09 ERA that led the majors.
In only two innings Monday, he doubled his run total. Jose Guillen extended his hitting streak to 10 games with a run-scoring double in the first, and Boone doubled home two more.
Juan Castro hit the first homer off Williams this season, a solo shot that rode the wind into the first row of seats in left field in the second inning.
Castro's third homer was stunning. Williams has given up only two in his last 11 starts, and none of the Cardinals had allowed a homer during the seven-game winning streak.
Williams' tough first inning also snapped a streak of 11 straight games in which St. Louis starters had gone at least six innings and allowed two or fewer runs.
Astros 8, Pirates 1
Houston -- Wade Miller retired his first 16 batters, and Jeff Bagwell hit his 11th home run to lead Houston past Pittsburgh for its fourth straight win. Miller was perfect before Pokey Reese singled up the middle on an 0-2 pitch with one out in the sixth inning. The right-hander won for the first time in seven starts this season, allowing three hits and a walk in eight sharp innings. He struck out four in his first victory since Sept. 21 at St. Louis.
Brewers 5, Cubs 3
Chicago -- Richie Sexson hit a two-run homer, and Ben Sheets extended his pitching dominance against Chicago. Sheets allowed three runs and five hits in 72¼3 innings, improving to 6-0 with a 2.72 ERA in six career starts against Chicago. Wes Helms also hit a two-run homer for the Brewers. Hee Seop Choi and Eric Karros homered for Chicago. Sammy Sosa came up with runners at the corners and two outs in the eighth, but Milwaukee reliever Luis Vizcaino struck him out looking.
D'backs 10, Phillies 1
Phoenix -- Steve Finley homered twice and tripled, and Matt Williams hit a grand slam and an RBI double in Arizona victory against Philadelphia. Along with his four RBIs, Finley scored four times to tie a franchise record. Miguel Batista (2-2) allowed only an unearned run and seven hits in his fourth career complete game.
Copyright 2018 The Associated Press. All rights reserved. This material may not be published, broadcast, rewritten or redistributed. We strive to uphold our values for every story published.