While some Kansas lawmakers decry Dennis Dailey's class on human sexuality, some of his students at Kansas University are honoring him for his teaching.
Dailey received the Del Shankel Teaching Excellence Award during the Jayhawk Scholar Recognition Banquet on Monday at the Kansas Union ballroom.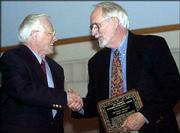 The award is given annually. All student athletes are invited to nominate a teacher for the award. A committee interviews the nominees, then votes for a winner.
---
The KU School of Social Welfare released the following letter today in support of Dennis Dailey, professor of social work.
An Open Letter to the University Community
During the past two months, a very important process has been unfolding as State Sen. Susan Wagle began her public attack on the school's human sexuality class and Dr. Dennis Dailey. Our school's mission has a "special commitment to helping vulnerable groups and individuals ... social workers celebrate differences among people and believe that respecting those differences -- whether race, culture, religion, gender, sexual orientation or age -- enriches the quality of life for all." Further, we see knowledge as empowering our students to reach their full potential.
The current assault by Sen. Wagle has been both personal and, in essence, an attempt to redefine the fundamental principle of academic freedom. If she succeeds, she has established the principle that the Legislature has the power to determine content in every curriculum in the regents system.
See tomorrow's Journal-World for a full story.
Given our school's commitment to marginalized groups, we are a logical first target. However, we will not be the last. Those programs that offer course work that does not fit the personal beliefs of legislators become fair game for these tactics. As faculty we want to take a public stance that clearly asserts our right and society's need for a university environment that supports open dialogue about ideas that shape our future and decry personal intimidation or institutional extortion as a legitimate strategy to silence those positions differing from our own.
We continue to support faculty efforts to provide students with information that fits with our school's mission and empowers students to make informed decisions about their lives.
Signed:
Sandy Beverly, assistant professor
Ed Canda, professor
Rosemary Chapin, professor
Catherine Crisp, assistant professor
Goody Garfield, associate professor
Scott Harding, assistant professor
Helen Hartnett, assistant professor
Steve Kapp, associate professor
Jim Kreider, teaching associate
Holly Nelson-Becker, assistant professor
Deb Page-Adams, associate professor
Jean Peterson, associate professor
Chris Petr, professor
Judy Postmus, assistant professor
Allan Press, associate professor
Charlie Rapp, professor
Dennis Saleebey, professor
Ed Scanlon, assistant professor
Margaret Severson, associate professor
Rick Spano, associate dean for academic programs and associate professor
Ann Weick, dean and professor
Copyright 2018 The Lawrence Journal-World. All rights reserved. This material may not be published, broadcast, rewritten or redistributed. We strive to uphold our values for every story published.