Astana, Kazakhstan — Two American astronauts along with a Russian cosmonaut returned to Earth from the international space station early today in a cramped Russian capsule, getting home the only way they could after the Columbia space shuttle disaster.
The safe landing, about 250 miles off target, in the isolated steppes of Kazakhstan in Central Asia was a relief for a still shaken NASA. The Feb. 1 Columbia accident grounded the entire shuttle fleet and forced the astronauts to stay in space two months longer than planned to await new travel plans.
The three-man crew were in good health, Russian mission control reported.
Rather than gliding to Florida in the relative spaciousness of a shuttle, Kenneth Bowersox, Donald Pettit and their Russian colleague Nikolai Budarin rode in the Soyuz TMA-1 capsule, just more than two yards by two yards in size, taking with them only a minimum of equipment.
The craft landed just north of the Aral Sea, mission control said. The landing site was about 250 miles west of the target.
"We are all very happy. It just took a little longer than we anticipated," said Allard Beutel, a NASA official at mission control.
They became the first NASA astronauts to land in a foreign spacecraft in a foreign land.
Mission control announced the landing at 6:19 a.m. Sunday (9:19 p.m. Saturday CDT), about 3 1/2 hours after undocking from the space station.
Much about this landing had NASA jittery. It was the first return of astronauts from space since the Columbia disintegrated during re-entry, killing its seven astronauts. It was the first time U.S. astronauts have returned from space in a capsule since 1975. Moreover, this new Soyuz model had never gone through a descent before. The location was new -- and it was onto hard ground, not in water as was the U.S. space programs' practice in the pre-shuttle days.
Because of Columbia, "the eyes of the American public and Congress and everyone are going to be on this landing," said Dr. J.D. Polk, one of two NASA flight surgeons who was heading earlier to the site.
NASA sent the surgeons with two helicopter loads of medical supplies, along with U.S. Air Force medical personnel -- just in case.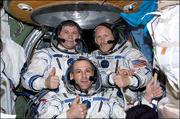 "We just don't have any acceptance for any risk right now," Polk said.
The Soyuz capsule separated from the station at 5:43 p.m. CDT Saturday, said officials at Russian mission control outside Moscow. The ship could be seen on a big screen, backing slowly away from the station.
Because the Soyuz is so cramped, Bowersox, Pettit and Budarin brought back very little -- mainly just a few small personal items, film, water and other environmental samples, and a handful of science experiments.
All their other belongings from 161 days in space were left behind to await home delivery by the next visiting shuttle -- whenever that may be. That stash includes Pettit's didgeridoo, an Australian Aboriginal horn he played to entertain his 2 1/2-year-old twin sons during video conferences.
Bowersox and Pettit spent 5 1/2 months aboard the space station with Budarin -- two months longer than planned because after the Columbia accident extra time was needed to bring their replacements aboard another Soyuz.
Astronaut Edward Lu and cosmonaut Yuri Malenchenko checked in last week for a six-month stay that promises to be a challenge, given the reduction in crew size to conserve supplies until shuttle flights resume.
Handing over command to Malenchenko before floating into the Soyuz, Bowersox told the new crewmen, "You guys have to be the two luckiest guys who come from planet Earth today."
Copyright 2018 The Associated Press. All rights reserved. This material may not be published, broadcast, rewritten or redistributed. We strive to uphold our values for every story published.