Tornadoes touched down Sunday afternoon in northeast Kansas and northwest Missouri, causing at least one death, several injuries and widespread property damage in the Leavenworth and Kansas City areas.
The largest tornado was reported by a trained weather spotter at 3:29 p.m. near Jarbalo in Leavenworth County, about eight miles east of Oskaloosa, moving northeast, according to the National Weather Service.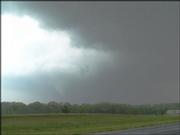 Later, Kansas City stations were reporting a person was killed by the tornado on 85th Street in Kansas City, Kan. TV stations were also showing video taken from helicopters of heavy property damage in the Kansas City, Mo., area near Parkville, Mo.
That tornado first touched down west of Bonner Springs in Leavenworth County, said Lynn Maximuk, a meteorologist with the National Weather Service in Pleasant Hill, Mo. The tornado moved through Leavenworth and Wyandotte counties and into Platte and Clay counties in Missouri, leaving a path of destruction in its wake.
The tornado reached 500 yards across at its widest, Maximuk said.
In Kansas, footage from television news helicopters showed homes torn down or damaged in Wyandotte County. There were also reports that a subdivision was flattened in Leavenworth.
Callers to radio stations reported seeing damage near Kansas Speedway and the Cabela's outdoor store in Kansas City, Kan., but neither the store nor the racetrack appeared to be damaged.
At Kansas City International Airport, officials stopped all flights and evacuated the terminals. Passengers were ushered into underground tunnels leading to parking garages. After about 30 minutes, the passengers were allowed to leave.
The television footage also showed water spurting from what appeared to be a flattened industrial park south of Parkville, Mo., in Platte County.
The Lawrence area was in a tornado watch through 6 p.m. Leavenworth, Wyandotte and Johnson counties were still in a tornado watch until 7 p.m.
Army National Guard Maj. Gen. Greg Gardner, Kansas' director of emergency management, said state officials knew of four tornadoes that touched down: one each in Leavenworth, Wyandotte, Miami and Crawford counties.
He did not have an immediate damage estimate.
All roads leading into Parkville were closed by emergency crews.
In nearby Riverside, debris littered an interstate highway and a storage facility appeared to have been ripped up and moved off its foundations.
In Missouri, the National Weather Service also issued tornado warnings for Jackson County in the Kansas City area and for Buchanan County in the St. Joseph area.
The public also reported a tornado on the ground about 4:50 p.m. near Fontana in Miami County, 11 miles south of Paola, moving northeast, the NWS reported.
During the afternoon, the tornado watch area includes Douglas, Shawnee and Franklin counties. Some of the cities in the watch area are Lawrence, Ottawa, Topeka, Emporia, Manhattan, Junction City, Marysville, Hiawatha, Abilene, Clay Center and Condordia.
---
-- The Associate Press contributed to this story.
Copyright 2018 The Lawrence Journal-World. All rights reserved. This material may not be published, broadcast, rewritten or redistributed. We strive to uphold our values for every story published.