One of the most loved flowers of all time is the rose. Whether the bloom is a delicate single or semi-double flower, rounded, rosette-shaped or high-centered, gardeners always seem to make space somewhere in their gardens for this favorite perennial.
Many rose growers said they began a rose garden because the rose, considered the queen of flowers, provides unparalleled beauty. Others are drawn to the flower for its fragrance. This year, gardeners who choose All-America Rose Selections (AARS) winners for their gardens will discover another wonderful quality of roses -- generosity. The 2003 winners provide an ongoing parade of dazzling color and new blooms, plus some never-before-seen colors and combinations.
The winners include two colorful Floribundas (Eureka and Hot Cocoa), a showy Grandiflora (Cherry Parfait) and a sophisticated Hybrid Tea (Whisper.)
For those unfamiliar with rose classifications, Floribundas are everblooming, free-branching shrub roses. They have flowers in clusters of 3 to 20 that bloom summer to autumn. Typically, Floribundas have prickly stems, dark green and glossy foliage and lightly scented flowers.
Hybrid tea is an upright shrub that produces a solitary high-centered rose. The blooms of hybrid teas are often scented. They make excellent cut roses.
Grandiflora is a combination Floribunda and Hybrid tea rose that can reach over 6 feet. The flowers are large, high-centered, resembling hybrid tea blooms. These roses can be used in formal beds, in hedges or as cut flowers.
"It's unusual for us to have four AARS winners in one year, but this year's class was outstanding and the judges reacted accordingly," AARS President Phil Edmunds said. "Consumers have a wonderful display of colorful roses to choose from."
The copper and apricot flowers of Eureka are spectacular when fully open and will attract dedicated rose growers as well as novices. This floribunda has an upright, rounded habit. The bush grows 31/2 feet by 3 feet. Plant it in groups of three to five to offer an anchor for a border, a centerpiece or an accent area. It can also be used as a bedding rose, which is the traditional role of Floribundas.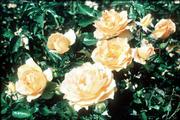 Eureka's color is a unique yellow with a golden center. Some have likened Eureka as a beautiful old-fashioned bloom of rich copper-apricot. Pointed oval buds, resting upon dark green glossy foliage, open to reveal four-inch blooms with a petal count of 25 to 30. The fragrance is light. The clusters are widely spaced, which makes this rose a wonderful corner anchor in your garden. Eureka has excellent disease resistance. Because of its vigor and strength, Eureka makes a great addition to any landscape.
Whisper is the only hybrid tea winner this year. It has an upright, rounded, well-branched habit that grows 51/2 feet by 4 feet. Like, Eureka, it looks great when planted in groups of three to five. Whisper is perfect as a perennial border. It can also be planted in a cutting garden, typical of hybrid teas.
Whisper's succulent, creamy white blooms rest comfortably among semi-glossy foliage. Its creamy blooms are a breath of fresh air in any garden. The dark green foliage serves as a dramatic background for this classic rose. Its pointed oval buds spiral open to reveal 5-inch blooms with 30 to 35 petals. Blooms, with a light fragrance, grace the bush much of the year.
Colin Dickson is the hybridizer of Whisper. The Kordes Company hybridized Eureka. Jackson & Perkins Wholesale Inc. introduces both Eureka and Whisper. Both should be available at garden centers and nurseries this year.
Next week I will look at the remaining AARS 2003 winners, Hot Cocoa and Cherry Parfait.
---
-- Carol Boncella is education coordinator at Lawrence Memorial Hospital and home and garden writer for the Journal-World.
Copyright 2018 The Lawrence Journal-World. All rights reserved. This material may not be published, broadcast, rewritten or redistributed. We strive to uphold our values for every story published.