White porcelain figurines have been made since the earliest days of porcelain.
In the 1700s, few people could afford even the glazed clay pots used for cooking. The well-to-do bought costly and rare white porcelain from Asia and Germany. Whiteness became important, and royalty collected hundreds of pieces of white porcelain. Soon, porcelain was decorated with gold and colors, but pure white continued to be the choice of many.
The early white porcelains include Meissen from Germany, Sevres from France, Chelsea from England and Chinese porcelains.
By the 19th century, there was Belleek from Ireland, Lenox from the United States and Ginori from Italy. English parian was another popular white ware. Shelves of white pottery and porcelain are back in style. Collectors search for 20th-century examples to mimic the treasures of 17th-century royal collections. Inexpensive white vases from Midwest potteries, Lladro figurines from Spain and many English pieces can now be found at prices ranging from a few dollars to $1,000.
I have a vase marked "North State Pottery Co., Sanford, N.C." on the bottom. Can you tell me something about this pottery?
North State Pottery Co. was founded in 1924 with the financial backing of Rebecca Palmer Cooper. Mrs. Cooper was a fan of the traditional pottery made in and around her hometown of Carbonton, N.C. Jonah Franklin Owen (1895-1966) was North State's first designer and potter. His younger brother, Walter Nelson Owen (1904-1981), started working at North State in 1925. Other local potters, many of them related to each other and named Owen or Owens, also worked there. So did Mrs. Cooper's husband, Henry. Henry Cooper pioneered the company's distinctive "double-dip" coloration, a process in which one glaze was layered over another. North State produced pottery at three different sites in central North Carolina until Henry Cooper's death in 1959.
My silver water pitcher is marked on the bottom with a circle surrounding an eagle's head. The words around the circle read "Forbes Silver Co. USA Quadruple." How old is my pitcher?
The Forbes Silver Co. was organized in 1894 by the Meriden Britannia Co., a large silver manufacturer in Meriden, Conn. Forbes manufactured silver-plated hollowware. The word "quadruple" indicates that your pitcher has four layers of silver plating. Meriden stopped using the word "quadruple" in its marks in 1896. Other U.S. silver-plate manufacturers dropped the word by 1912. Forbes and Meriden were among the several independent silver manufacturers that formed the International Silver Co. in 1898. It is likely that your pitcher was made in the mid-1890s.
My father immigrated to the United States from Greece in 1898. He left me an interesting clothes brush. It is 8 inches tall with a round brush base. The figural wooden top is a black man wearing what looks like a sailor outfit. His hat and pants are white, and his jacket is blue. What can you tell me about it?
The figure is a bellhop. Several similar brushes were made in various sizes from about 1910 to 1940. The larger brushes are clothes brushes. The smaller ones are shaving brushes. Some of the brush tops are in the shape of a woman, with the brush forming a skirt. All of them are black figures, and they are pictured in books about black collectibles. A large brush like yours sells for more than $100.
I have a full deck of thin metal playing cards with the original metal box from the 1904 St. Louis World's Fair. Each card has a black ink drawing of one of the fair buildings. The holder is etched with the words "World's Fair, St. Louis 1904." Is there a market for the cards, especially with the centennial of the fair approaching?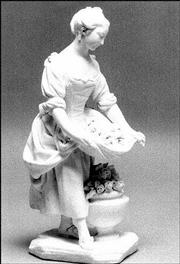 The Aluminum Manufacturing Co. of Two Rivers, Wis., manufactured at least one style of aluminum playing cards for the St. Louis World's Fair. Other companies made paper decks. A complete aluminum deck in excellent condition sells for more than $500. Interest in the fair's centennial and in the bicentennial of the Lewis and Clark Expedition could increase interest in 1904 World's Fair collectibles.
My husband has a tabletop mechanical baseball game that he played with about 1930. It's called "The Great American Game." It has a wood base covered with lithographed tin and a cylinder at the top that rolls when a button is pressed. The cylinder gives you the plays in the game. The game was made by the Hustler Toy Corp. of Sterling, Ill. Can you tell me the value?
Your game is prized by collectors of baseball memorabilia. It was introduced in 1923. In excellent condition, it's worth about $250.
Tip
Dust your antiques regularly but carefully.
Dust leads to mold growth and encourages insect growth.
¢
The Kovels answer as many questions as possible through the column. By sending a letter with a question, you give full permission for its use in the column or any other Kovel forum. Names and addresses will not be published. We cannot guarantee the return of any photograph, but if a stamped envelope is included, we will try. The volume of mail makes personal answers or appraisals impossible. Write to Kovels, (name of your newspaper), King Features Syndicate, 888 Seventh Ave., New York, NY 10019.
Copyright 2018 The Lawrence Journal-World. All rights reserved. This material may not be published, broadcast, rewritten or redistributed. We strive to uphold our values for every story published.