AUBURN HILLS, MICH. — Two No. 1s will play key roles in determining whether the Detroit Pistons or Orlando Magic reach the second round of the NBA playoffs.
The focus will be on Tracy McGrady, Orlando's best player, and Detroit's Chauncey Billups, whose 40-point performance was the driving force behind the Pistons' 103-88 win Friday night in Game 6 of the teams' first-round playoff series.
Both wear uniform No. 1 and both have one chance left to help their teams advance when the hard-fought series concludes with today's Game 7. The winner will face Philadelphia.
The Pistons will try to avoid becoming only the third top seed to drop a playoff series to a No. 8 seed. The Magic, who led 3-1, haven't reached the second round since Shaquille O'Neal and Penny Hardaway played in Orlando.
"We've got to do it the hard way, and that's on the road," said McGrady, who had 37 points and 11 rebounds while playing all but 25 seconds Friday.
McGrady has been hounded by the NBA's best defensive team but has managed to average 33.5 points. He has vowed to "be a little bit more selfish" today.
"He got 46 on us (in Game 2), and we beat them," Detroit's Jon Barry said Saturday after practice. "He does tend to take other guys out of the mix."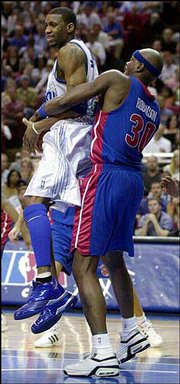 Regardless of what strategy Orlando employs, the Pistons will look to take the same hard-nosed approach that has led them to consecutive 50-win seasons and a pair of Central Division crowns.
"We're playing a very physical brand of basketball right now," Billups said. "We wanted to pick up our aggressive level of play, and we have."
But Orlando has been up to the challenge, winning the first game on the road and matching Detroit's muscle along the way.
Rookie forward Drew Gooden, a Kansas University product, has routinely gone right at two-time Defensive Player of the Year Ben Wallace and attacked the glass with Wallace-like intensity.
The Pistons set the tone in Game 6, though. Billups connected on more three-pointers -- five -- in the first quarter than he had all series, and Wallace recorded his fourth double-double of the series with 20 points and 17 rebounds.
"My concern is about the guys coming out too relaxed," Wallace said. "I'm not worried about the guys being too overanxious. We can use that."
Detroit has not only momentum on its side, but also a raucous home crowd.
"It's going to be difficult," Orlando forward Shawn Kemp said. "It was difficult to get it in our own house, so you know it's going to be tough in theirs. We just got to be confident. We went in there and won the first game. We've got to go back and get the last game."
Magic coach Doc Rivers thinks playing Game 7 away from Orlando could be a plus.
"Maybe that's the environment we need, as crazy as it sounds," he said. "It felt like once we got up, then expectations grew. Now we should be the team with nothing to lose again."
"I'll tell you this, Detroit better play their (behinds) off on Sunday or they're going home."
Copyright 2018 The Associated Press. All rights reserved. This material may not be published, broadcast, rewritten or redistributed. We strive to uphold our values for every story published.