Ottawa — Mushrooms as big as a football are the stuff of tall tales.
But Vernon Richards has hard proof of the massive, 6.5-pound mushroom discovered on his farm north of Ottawa. This astonishing hunk of mushroom -- 13 inches tall and 11 inches wide -- resides in a turkey roaster in his home freezer.
He assumes it's a false morel, which looks like the tasty morel coveted by folks this time of year but grows much, much larger, and may be poisonous.
"When you tell people the size of this thing, they laugh," Richards said. "When you pull it out, they say, 'Holy ...'"
Richards, 46, has been hunting morels for at least 40 years. He's seen nothing like this giant before, and doubts he will again.
"How many times do you get to see something like this? It's like shooting a 30-point buck," he said.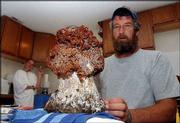 He found the titan growing next to a 250-year-old red oak tree.
Since stumbling across the mushroom Monday afternoon, Richards said, he's called around to state officials and university researchers to get a better fix on the pedigree of his find. Nothing conclusive so far.
On the Internet, Richards said, a friend found a picture of a false morel that weighed just 4 pounds.
For now, the gargantuan mushroom will stay in the freezer.
"I'll keep it," he said. "People are curious."
And Richards has a message for anybody contemplating a covert trip onto his land to search for this mushroom's siblings.
"No trespassing," he said. "Keep out."
Copyright 2018 The Lawrence Journal-World. All rights reserved. This material may not be published, broadcast, rewritten or redistributed. We strive to uphold our values for every story published.