Louisville, Ky. — Jose Santos grew up watching greatness at the Kentucky Derby and daydreaming about being part of it.
He was 12 and living in poverty in Chile when he saw Secretariat make history in 1973. Already a jockey five years later, he watched Steve Cauthen ride Affirmed to a Derby victory.
Santos never doubted he could win, too. It took 30 years and seven tries, but he finally reached his goal with Funny Cide at the Derby Saturday.
"Did I think this day would come? Yes, I did," Santos said.
Santos, who grew up with six brothers and a sister, began working as a groom at age 8 and sold newspapers to help the family survive.
"We were poor. We didn't eat so good," he said.
Santos saw racing as the way out. He rode his first race at 15 and struggled for five years to make ends meet.
"I was winning a lot of races, but not making a lot of money," he said.
He moved to Colombia, where he raced for five more years, making $200 a month.
"I put my mind on coming to America. I was looking for a dream and here was my dream," Santos said.
He ended up in Florida, where he began racing in January 1984. That summer, he tied Alex Solis for the riding title at Calder, with 69 winners. That was all the confidence he needed to stay in America.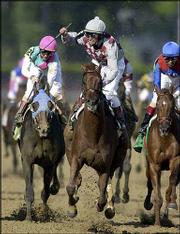 Santos moved to New York in 1985, and the following year he led all New York riders with 237 victories. He added to those totals in 1987 and 1988, and as he improved even more, so did the quality of his mounts.
"People knew I was working hard, knew I could ride horses," Santos said.
He rode in his first Derby in 1987, aboard fourth-place finisher Cryptoclearance. He continued to win races, but the Derby kept eluding him.
Until now.
Santos told New York-based Barclay Tagg last fall that he had found the horse that was going to win him the Derby, Funny Cide. Tagg thought Santos was just being polite.
"I think Jose has ridden him one time," Tagg said. "He made a comment that he was the best 2-year-old he had ever had in his life."
The gelding won his first three starts as a 2-year-old, all at Belmont Park with Santos aboard.
The horse ran into trouble at the start of his 3-year-old season, finishing fifth after hitting the gate in the Holy Bull and finishing third in the Louisiana Derby. Three weeks ago, Funny Cide was beaten by Derby favorite Empire Maker down the stretch in the Wood Memorial.
When another showdown between the two shaped up Saturday, Santos and Funny Cide were ready.
"Looked pretty good from the 16th pole home," Tagg said. "He looked like he wasn't going to quit and it didn't look like the other horses were going to gain on him."
As he crossed the finish line, Santos raised his whip in a clenched fist and blew a kiss to the crowd, something he has envisioned doing since he was a teenager.
"Today was the day," he said.
Funny Cide's owners include six friends who attended high school together in Sacketts Harbor, N.Y., and four other partners. The nine who made it to the Derby wildly jumped and embraced as Santos eased the winner.
"It is a thrill beyond belief," Jack Knowlton said. "This is for everyone who dreams of owning a horse."
Knowlton, who owns a health care consulting firm in Saratoga Springs, N.Y., said the group's Sackatoga Stable had only three horses, including Funny Cide.
"We ran behind some tremendous horses in the Louisiana Derby and the Wood," Knowlton said. "We beat them today when it really counts."
Copyright 2018 The Associated Press. All rights reserved. This material may not be published, broadcast, rewritten or redistributed. We strive to uphold our values for every story published.