The dream is still alive, for now.
Rural Lawrence resident Sonny Foley has it every time one of his thoroughbred broodmares delivers a colt. Every time a colt is born, Foley wonders if this is The One. The one that will run for the roses and bring home the ultimate glory to a horse owner, a Kentucky Derby victory.
When you are in Foley's business of raising and breeding thoroughbred race horses, that's the ultimate dream, whether you are in the heart of bluegrass country or on a small horse farm in between Lawrence and Lecompton.
"It takes a good horse to get there, but I'm telling you there is no reason there couldn't be a horse right here in Kansas that could do it," Foley said. "In this business, you're always thinking that if you get that right combination of mare and stud, you might just get that freak that races like a demon.
"That's what I'm looking for, that particular colt."
Slowing down
Foley isn't alone in his search, but he is getting lonelier in Kansas. That's because the state's thoroughbred industry is on the decline.
George Smith, executive director of the Kansas Thoroughbred Assn., said membership in his organization had declined for almost a decade. The association has about 125 members, down from about 250 seven years ago.
To find a reason for the decline, Smith, Foley and others in the industry said to look at the Kansas City, Kan., Woodlands racetrack, which was built in 1991.
The track was built to be the premier racetrack in Kansas, and it was during the early 1990s. There were several big races a year that gave horse owners a chance to win $20,000 or $30,000 in a single victory. Today, those races are few and far between. The average race today at the Woodlands has less than a $10,000 purse.
Now, Kansas thoroughbred owners drive to places such as Altoona, Iowa, Oklahoma City, or Hot Springs, Ark., to find races that give them a chance to win enough to pay their expenses and make a little profit. Kansas horse owners also tend to take their broodmares to those states to breed because quality stud horses generally tend to be around quality racetracks.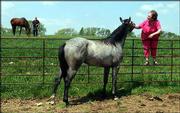 As a result, fewer Kansans are willing to jump into the industry.
"I think the industry (in Kansas) is about as low as it can get right now," said Dale Lynn Brecheisen, a Baldwin-area trainer of thoroughbreds.
Slot salvation?
Some in the industry hope that better days are ahead, if Kansas lawmakers allow the Woodlands to install slot machines.
The theory is that the racetrack would take some of its profits from slot machines and use them to increase the purses it pays at its horse races, thus improving the quality of the races and attracting more bettors.
Smith estimates that slots would triple the size of the average purse.
"The higher the purses, the better your chances of making a reasonable profit as an owner or a trainer," Smith said. "If those chances improve, more people will get back in the business."
Legislators were expected to debate the slot machine proposal during the wrap-up session, but the fate of the bill was still uncertain at the Journal-World's deadline. In past years, the idea has been defeated by a majority of legislators who have expressed concern about expanding gambling in the state.
Brecheisen said the idea has worked elsewhere. He said the track in Altoona, Iowa, just outside Des Moines, was bankrupt two years ago before it added slot machines. Now, he said, it is regarded by many horse owners as one of the premier tracks in the Midwest.
"They went from $2,000 main races to $20,000 main races," Brecheisen said. "That pays for a lot of feed for awhile."
Brecheisen said the slot machines would do more than just help the thoroughbred industry. Supporters of the proposal have said it would provide new revenue for the state to crawl out of its budget crisis. Brecheisen, though, said the slots also would help the agriculture industry.
"You've got to buy lots of grain to feed the horses. You've also got to buy hay, straw, sawdust," Brecheisen said. "Almost everything we buy all goes back to the farmer eventually. And it seems like everything you buy for a horse is about five times more expensive than it is for a cow, so it's a good deal for the farmer."
Not a hobby
Brecheisen and Foley said state officials also could look at the slot proposal as a way to help small businesses, because they said that's what most thoroughbred operations in the state are.
In Kentucky, horse racing is still the Sport of Kings. Many of the horse owners in Saturday's Kentucky Derby were members of Middle Eastern royal families, Japanese business titans or Hollywood movie moguls.
In Kansas it doesn't work that way. Foley is a pretty typical example. He owns a construction company and runs the horse operation as a side business.
He describes it as being just profitable enough that he still enjoys it. He has had three horses since he started in 1995 that have each won about $45,000 in their careers. Right now he has four broodmares and two colts. The colts are still in training and haven't yet taken to the track.
Foley said his operation is big enough that he doesn't treat it like a pastime.
"It started off as a hobby, but there got to be so much money going out the door that we had to start treating it like a business pretty quick," Foley said.
The sport isn't cheap. Foley said it costs him $1,500 to $2,500, plus travel costs, every time he sends a mare to be bred.
Then there are training expenses. It usually takes three months to train a horse before it is ready for the track, and trainers usually charge $20 to $40 per day.
"Basically, they've got to win a couple of races just to make it pay off," Foley said.
Brecheisen definitely doesn't treat his operations as a hobby. He's one of only a handful of Kansans who make their living from thoroughbreds.
He's training 14 horses for about six owners. He makes his money from training fees and by taking 10 percent of the first-place winnings of each horse that he trains.
He's been in the business for 14 years, and he said it is like any other. It has its ups and downs.
"It's a tough business and it has gotten tougher since the money has gotten tighter," Brecheisen said. "It has its good years and its bad years.
"If you have a couple of good horses going at once, you can have a real good year. But if one horse gets hurt, there goes a large part of my income."
Or as Smith, who has been in the business since 1948, puts it: "Sometimes it is really pretty good, and sometimes it really isn't. I think most people get into it for the love of the horse and just hope they make money."
The thrill
The love, not the money, likely is what will save the Kansas thoroughbred industry from extinction, especially if the slot machine proposal is never passed.
Brecheisen thinks that even without the slot machines there will always be a few Kansans who are active in the industry because, "there's always people who want to race."
Foley also thinks the industry will survive, although he expects the Woodlands to fold if slots aren't allowed at the track in the next couple of years.
But he said his dream of a Kentucky champion won't fold because, although his horse operation is a business, it is a business that's about more than money.
"There's nothing like watching your horse come around the hook and take it all," Foley said. "You get to go down to the winners circle and have your picture taken.
"What's funny though is that when you're down there, you never think about the money you just won. All you can think about is the thrill of the race."
Copyright 2018 The Lawrence Journal-World. All rights reserved. This material may not be published, broadcast, rewritten or redistributed. We strive to uphold our values for every story published.